Home Science College organizes national webinar on NEP- A step towards atam nirbhar bharat
Aim was to promote  entrepreneurship in sync with the college motto Knowledge for service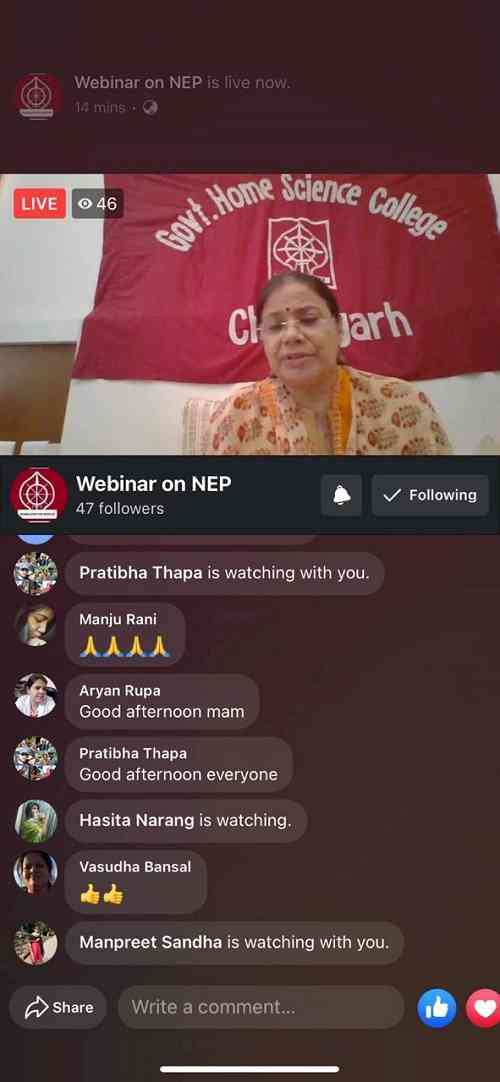 Chandigarh:  Government Home Science College organized National Webinar on New Education Policy- A Step Towards Atam Nirbhar Bharat with an aim to promote  entrepreneurship in sync with the college motto Knowledge for service. Professor Nandita Shukla, professor of Education in Punjab University and Dean, International Studies was the  speaker for the event.

She  emphasized that the country's new educational policy has a learner centered approach with focus on developing cognitive learning skills of an individual. It is aimed to develop job creators rather than job seekers. It talks on conserving Indian heritage, traditions and values on one side and 21st century futuristic skills on the other side. Linking education to national aspirations is the key objective of this New Education Policy. It  suggests structural changes and  proposed revamping of all aspects from curriculum pedagogy, evaluation  to improvement in regulation and governance in the educational setup of the country. It has the essence of all previous education commissions. The speaker was reminded of the famous Quote of Mahatma Gandhi " Having Our  Feet Rooted to our  Soul and  Keeping the Windows of Mind Open, which is the essence of this policy.

Multidisciplinary education, flexible curriculum, combination of subject  education with vocational education ,starting right from 6th standard with multiple entry and exit options  are some highlights of this policy. She informed that the policy focuses on making India global hub for manufacturing by setting up skill labs like manufacturing of toys in toy labs. The speaker concluded the session by saying that New education Policy can be a game changer if implemented in true sense.

Principal Prof Sudha Katyal expressed her gratitude to the Speaker for the insightful session. She said that New Education Policy is the need of hour and it will play a crucial role in transforming Indian Education System.