Home Science College addresses malnutrition during covid 19
The webinar was attended by more than 300 Viewers and aanganwadi workers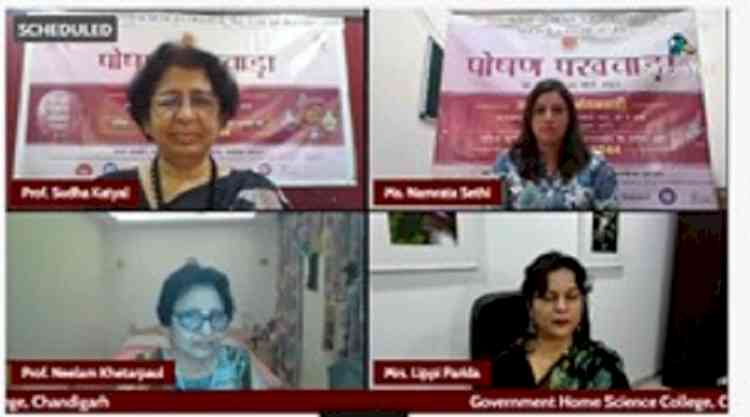 Chandigarh: Keeping in sync with the theme of Poshan Abhiyaan and Poshan Pakhwada for better nutrition during first 1000 days of life, Home Science College organised a webinar on Addressing Malnutrition During COVID 19 in collaboration with Department of Social Welfare for Aanganwadi workers. 
The webinar was presided by Chief Guest Madam Lippi Parida. The session started with an inaugural address by Principal Prof. Sudha Katyal where  she   threw light on how the corona pandemic has changed lives worldwide and brought a disparity in the economic and nutritional status of families. She discussed how the intensity and magnitude of corona has affected malnutrition and increased the hunger index where India ranks 94 out of 107 countries. Corona has provided a great set back to the progress achieved by our country in consonance with the second Sustainable Development goal of ending hunger, achieving food security and improved nutrition. 
This was followed by a special message from the Chief Guest. She talked about the importance and role of women and especially aanganwadi workers in helping spread the message of eating right. She emphasized on the importance of addressing child malnutrition and the role of Poshan Abhiyaan and Poshan Pakhwada as   key initiatives of the government. 
The resource person of the webinar Prof Neelam Khetarpaul, Emeritus Prof. shared statistics and situation of malnutrition in India. She spoke about how the pandemic has affected the  strategies and nutritional intervention programs of the government. She highlighted the importance of the schemes implemented by the government to help overcome this as well as the role of immunity boosting nutrients like zinc and vitamin C.Madam also spoke about the need to adopt biofortification and cluster agricultural practises to help combat malnutrition. 
The webinar was attended by more than  300 Viewers and aanganwadi workers. 
Principal Prof Sudha Katyal encouraged the audience to gain maximum benefit from the webinar and as grass root level front line workers to help spread this message to help prevent onset of malnutrition especially during the pandemic times