HMV IIC attended Orientation Session held by MHRD Innovation Cell
HMV Innovation Council attended the Orientation and Demonstration Session on Mentor Mentee Programme for IIC Institutions under the guidance of Principal Prof. Dr. (Mrs.) Ajay Sareen and Dr. Anajna Bahtia, Incharge IIC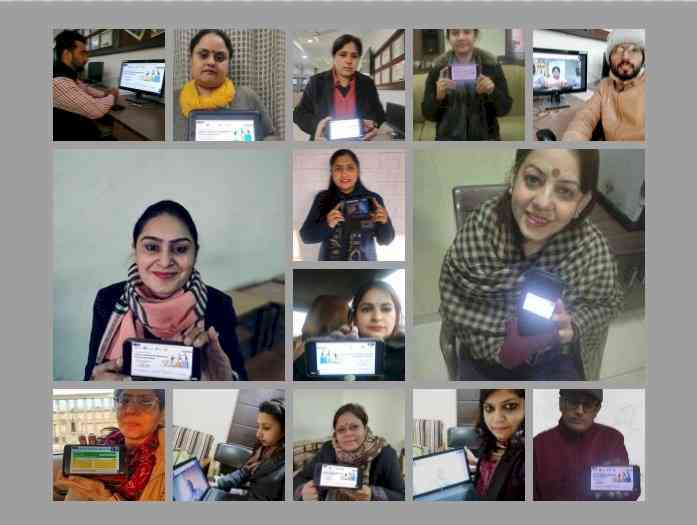 Jalandhar, January 15, 2022: HMV Innovation Council attended the Orientation and Demonstration Session on Mentor Mentee Programme for IIC Institutions under the guidance of Principal Prof. Dr. (Mrs.) Ajay Sareen and Dr. Anajna Bahtia, Incharge IIC. 
The session was organized by MHRD Innovation Cell in the presence of Prof. Anil Sahasrabudhe, Chairman, AICTE, Prof. M.P. Poonia, Vice Chairman, AICTE, Prof. Rajiv Kumar, Member Secretary, AICTE and Dr. Abhay Jere, Chief Innovation Officer, MIC. Dipan Sahu introduced the event and briefed about the programme. Dr. Abhay Jere explained the objective of the session. He told that continuous evaluation of IIC institutions was done and institutions were graded and ranked according to their performance levels. Some IIC institutions have been selected as the mentor Institutions. There is a need for a tectonic shift in mindsets from chasing grades to chasing ideas. He defined research as conversion of wealth to knowledge and innovation as reconversion of that knowledge to wealth again so we require a mature ecosystem to create the cycle of conversion and reconversion to ultimately achieve the goal of five trillion economy status and lead the world. From that perspective there is need of mentor mentee programme is required. The institutions which are performing well can hand hold and guide the institutions which are lagging behind. The collaborations would help to create a vibrant community. Mr. Dipan explained the three phase process of Mentor Mentee Programme. In the first stage applications were invited from top performing institutions and 50 institutions were selected as mentors and 155 were chosen for volunteer role. In the second stage mentee institutions were asked to choose their mentor institutions. In the third stage funds would be released for conduction the activities.  IIC President, Mr. Pankaj  Mishra, IIT, Dhanbad, Dr. P. Vaibhe Sakila,  Sri Krishna Arts and Science College, Coimbatore and Ms. Deepa,  Prince Dr. K. Vasudevan College of Engineering, Chennai expressed their opinion on the programme. Prof. Rajiv Kumar congratulated all the mentor mentee institutions. Prof. Anil Sahasrabudhe encouraged the institutions to come up with ideas of innovation on their own and achieve the mission of the Innovation Council. 
Principal Prof. Dr. (Mrs.) Ajay Sareen congratulatedHMV IIC Incharge Dr. Anjana Bhatia and said that HMV IIC is doing great job by providing right platform to the innovative ideas.