Himani Chamunda shall be developed as religious tourism: MLA
The old Himani Chamunda temple was destroyed by the fierce fire in 2014 and now it has been under reconstruction again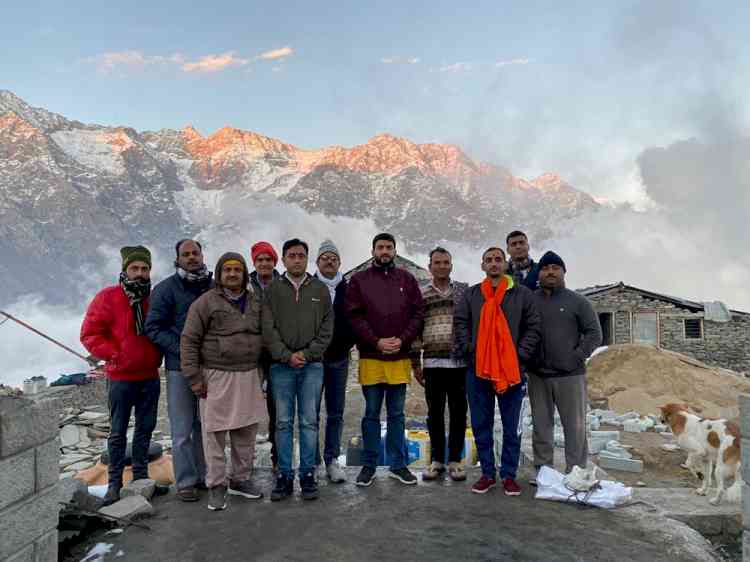 Dharamshala: MLA Vishal Nehria visited  Sri Himani Chamunda temple situated at height of 3185 meters,  after covering 13kms track on  foot on Thursday  and offered prayers. On this occasion he inspected the reconstruction work going for  the temple at the cost of  rs one crore and said that soon the devotees will be able to have a new look of the temple.

He said that the government is making every effort to develop Shri Himani Chamunda temple as per  religious tourism. Vishal Nehria said , " Himachal is known as  Dev Bhoomi and a  tourism state which also  has immense potential for medical tourism, religious tourism and adventure tourism. Soon the work of Adi Himani Chamunda ropeway will also start and with the commencement of this ropeway, devotees will be able to cover the distance of 13 kilometers in just 18 minutes."

Temple officer Apoorva Sharma, members of the temple trust, priest Mahando Ram and others were present on the occasion.
Aadi Himani Chamunda Temple situated at 3185 meters is located on a hilltop, North East to the existing Chamunda Devi Temple near Dharamshala in Kangra District of Himachal Pradesh. One can reach there after hiking about 13 Kilometers from Jadrangal Village. The trek to Aadi Himani Chamunda Devi requires about 6-7 hours and Devotees visit the sacred shrine throughout the year except winters. As per locals, the goddess Chamunda killed two demons Chand and Mund from the top of the mountain by throwing huge boulders on them, one can still find one of the boulders above the Shiva Temple located near existing Chamunda Devi Temple situated  in Dharamshala Palampur state highway. The old Himani Chamunda temple was destroyed by the fierce fire in 2014 and now it has been under reconstruction again.