Himachal's tourism will get new dimension by becoming Mandi Airport: CM
Advised opposition not to oppose development projects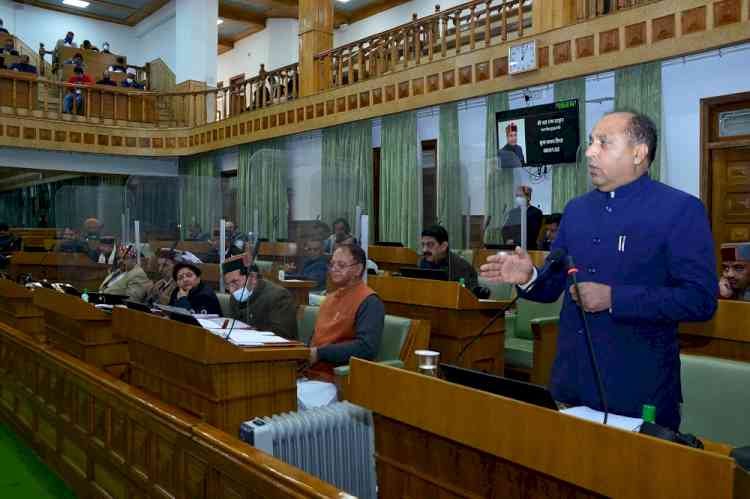 Dharamsala, December 15, 2021: Chief Minister Jai Ram Thakur, who went on a visit to Kashi, reached the House on Wednesday, the last day of the winter session of the Vidhan Sabha in Tapovan at Dharamsala after two days. After reaching the house, the Chief Minister, in response to the question raised by Com MLA Rakesh Singha regarding land acquisition for Mandi Airport, said that some people try to obstruct the projects of state development in advance.
CM said that there is immense potential for tourism in the state, but tourism will not grow only through speeches. For this, better facilities and infrastructure are needed in the state. He said that for these we have to work on the ground. The Chief Minister said, "Mandi Airport would be the biggest project of the state, due to which tourism would get a boost in the state and  about five lakh people would get direct and indirect employment."
The CM said, "There will be a huge increase in the number of tourists in Himachal after the completion of this airport, which will benefit the people of the state.  At the moment, there is neither four-lane connectivity nor better railway connectivity in the state. As such, there is a plan to build an international airport to improve air connectivity in the state, for which the survey work has been completed. The report after the survey has come positive."
The Chief Minister said that the Finance Commission has given approval of one thousand crores initially for the Mandi airport. At the same time, 400 crores have been approved for the expansion of Gagal Airport in Dharamsala. The Chief Minister said that as far as land acquisition is concerned, the process has not started yet. The government will take full care of the displaced during land acquisition. Earlier, Mahendra Singh also advised comrade MLA Rakesh Singha not to oppose Mandi Airport.