Himachal police will use drones to check and curve illegal mining: DGP HP
Says, we shall ask DCs of the state to help the police in purchasing of these drones from the district mining fund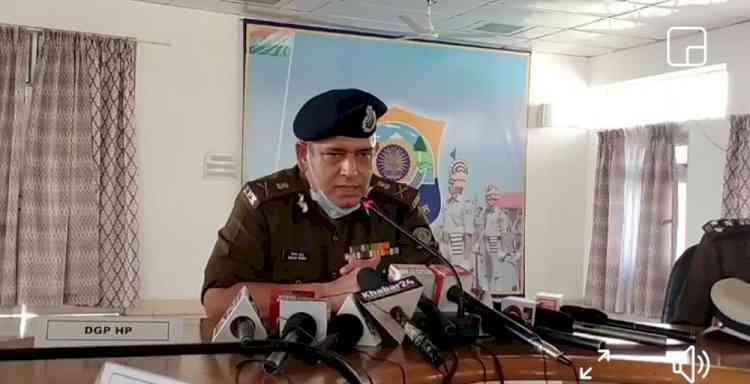 Sanjay Kundu, DGP Himachal addressing the media persons in Dharamshala on Saturday.
Dharamshala: The police in Himachal will use Drones to check and curve illegal mining. This was disclosed by Sanjay Kundu, DGP Himachal in Dharamshala on Saturday.
Addressing the media today DGP said, "We shall ask DCs of the state to help the police in purchasing of these Drones from the district mining fund, these drones shall be equipped with IP cameras."
He added that recently CM Himachal inaugurated a Command Centre in state head quarter, and the department has now attached all 19000  cctv cameras to this centre to have a centrally control system. " soon we will extend the number of cctv's to 68000 so that entire state could be monitored from single point. I have instructed all SP's to meet DC's to plan out to  cover all the temples of the state with cctv cameras and have an eye on crowded through Drones during festival like Navratras" said DGP.

He said that cctv cameras must be fitted inside and outside of all the educational institutions to check drug trafficking and drug abuse.

"Kullu district has started an intelligent traffic system, which shall be implemented in Chamba, Kangra and Una district too," said Kundu.

He said that the office of the DIG intelligence shall be shifted from Shimla to Dharamshala soon and for this, the  process is on.
DGP said that the cyber crime is increasing in the fast pace, in view of it police have sent a proposal to the state government to increase  the CID Crime Police Stations, from one at Shimla to one each in all the 12 districts of the state with trained staff and laboratory.

Police have registered 654 FIRs of those who do not wear masks in public and collected fines worth rs 26,33,750 in three districts of Northern police range i e the districts of Chamba ,Una and Kangra.

DGP was in Dharamshala today, to review the law and order situation of the districts of Kangra, Una and Chamba.