Heritage Foods launches A2 milk on occasion of World Milk Day
Easily digestible, good source of micronutrients like calcium and Vitamin D, helps in building immunity with longer shelf life of three months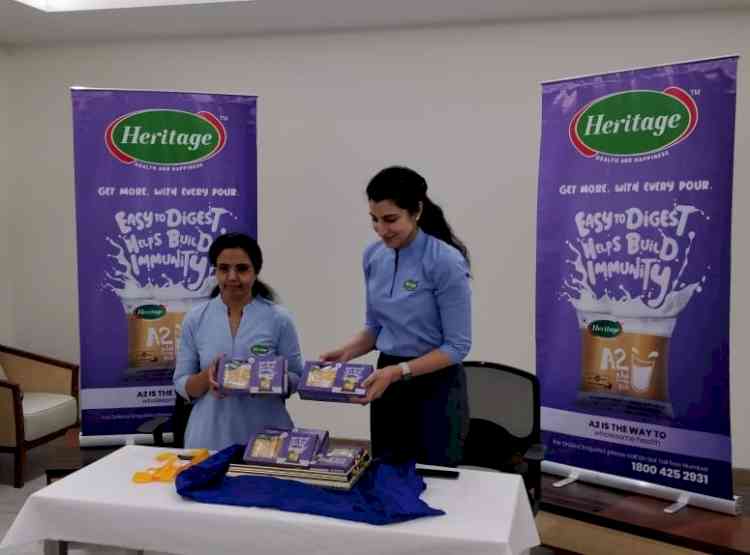 Seen in the picture from left: Mrs. Bhuvaneswari Nara, Vice Chairman & Managing Director and Mrs. Brahmani Nara, Executive Director, Heritage Foods Ltd.
Hyderabad: Heritage Foods launches A2 milk on the occasion of World Milk Day. A2 Milk is a wholesome health offering that is easy to digest and helps in building immunity, thus making it an ideal choice for health conscious consumers.
 
Given its functional benefits, Heritage Foods' A2 Milk is also believed to attract the likes of progressive and discerning consumers as they're constantly seeking nutritional options that ensure wholesome health for themselves & their family.A2 milk is high in quality UHT milk with good heat stability, which has undergone UHT treatment to retain all goodness of pure milk. It is also a good source of vitamin D and Calcium. The milk has 90 days of shelf life.
Heritage A2 Milk will be available at leading Modern retail stores, E-Commerce platforms like Big Basket, select standalone stores and select Heritage Parlours in an attractive 500ml pack priced at ₹50.
 
The product was launched by Mrs. Bhuvaneswari Nara, VC & MD. On the occasion of launch Mrs. Brahmani Nara, Executive Director said, "Happy to launch A2 Milk on World Milk Day, I am sure our consumers feel the difference. It's easy to digest and other micro nutrients like calcium, Vitamin D are the biggest draw to shift to A2 Milk products.
 
She further added that, "As it helps to build immunity, there is no better time than now, where in entire family needs to have healthy and nutritious products to build immunity."