Heavy rains in B'luru claim woman techie's life, CM orders probe
Heavy rains in Bengaluru claimed the life of a woman software professional on Sunday.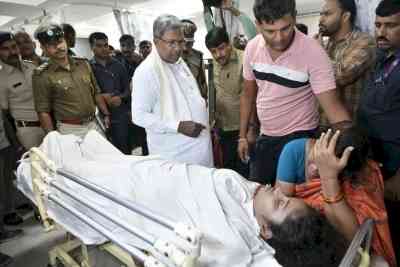 Source: IANS


Bengaluru, May 21 (IANS) Heavy rains in Bengaluru claimed the life of a woman software professional on Sunday.
Chief Minister Siddaramaiah, who visited the hospital, has ordered an investigation into the allegations of medical negligence.
He also held an emergency meeting with Bengaluru Police Commissioner and Commissioner of Bruhat Bengaluru Mahanagara Palike (BBMP) and gave instructions to them to immediately take precautions.
The deceased is identified as Bhanurekha, 22, an employee of Infosys. The incident had taken place at the underpass of K.R. Circle in the Central Business District of Bengaluru.
According to police, the victim was travelling in the car with family when the vehicle got stuck in the water accumulated in the underpass. Bhanurekha turned serious as the water gushed into the vehicle.
She was rescued and shifted to the hospital by authorities. Though she was taken to St Martha's Hospital, the staff allegedly did not attend them immediately and showed negligence.
When the media who arrived to the spot questioned authorities, the hospital staff moved the girl into the hospital. There was a delay of 30 minutes. Bhanurekha succumbed as treatment failed later.
Siddaramaiah rushed to the spot and spoke to the family of the deceased girl.
"The girl who fell sick has died. She is from Vijayawada and called her family to Bengaluru for sight-seeing. As there was heavy sudden downpour, the underpass got filled with water.
"The allegations of medical negligence will be probed. The hospital authorities are claiming that they have not shown negligence. If their negligence is found, the action would be initiated against them," Siddaramaiah stated.
The government has given Rs 5 lakh compensation to the deceased's family. The family members who fell sick would be given treatment free of cost, he said.
Former CM Basavaraj Bommai stated that the new Congress government must give directions to BBMP officers to take precautionary measures to prevent such tragedies.