Healthcare workers being given training in donning and doffing of personal protective equipment kit
The training will be held successively for three days in different training sessions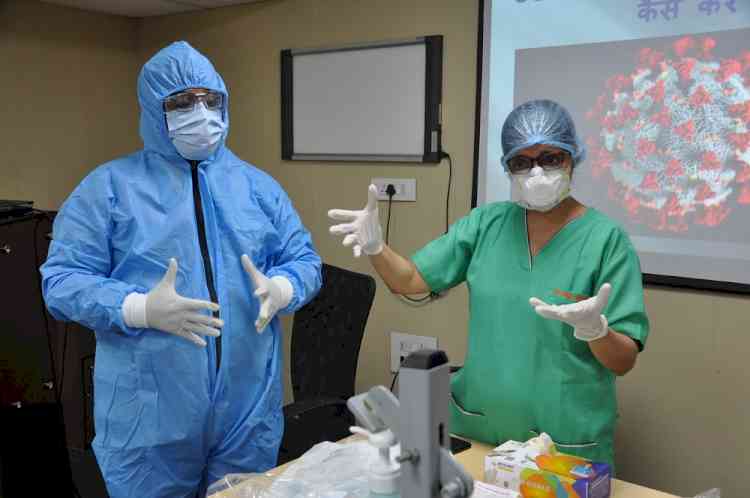 Ludhiana: Ever since, COVID patients are being treated DMCH, the institution has taken an initiative in training healthcare workers (both doctors and nurses) in Donning & Doffing of Personal Protective Equipment (PPE) kit. The training will be held successively for three days in different training sessions.

Secretary of DMCH Managing Society Prem Kumar Gupta said that it is the most needed requirement of an hour that healthcare workers should know the proper technique of donning (wearing) and doffing (removal) of  Personal  Protective Equipment (PPE) kit while treating COVID patients in various Isolation wards of the hospital.

Assistant Dean Academics, DMCH-Dr Sandeep Kaushal said that making healthcare workers aware about proper wearing and removing of PPE kit is essential for their health safety and if they themselves are safe, only then they can be helpful in the effective treatment of COVID patients.

Department of Anesthesiology and Cardiac Anesthesiology undertook this project in training the docs and nursing staff of DMCH & HDHI. The morning session was conducted by Dr Vivek Gupta from Department of Cardiac Anesthesia and afternoon session was conducted by Dr.Anju Grewal from Department of Anaethesia.

It was strongly advised by the trainers that hand hygiene should be meticulously following in donning and doffing of PPE Kit. Both doctors and nurses have to make sure that they don't leave any precautionary measure unattended and before wearing, should thoroughly check whether PPE kit is fully well stitched and not torn anywhere. Then, there are prescribed steps which need to follow in putting on and putting off PPE kit.

It was also emphasized that PPE kit should not be taken off partially or fully in between. Health care workers were also explained the steps for their own care prior to donning as well.