HDHI, Sewa Sankalp Society and District Administration, Ludhiana honored plasma donors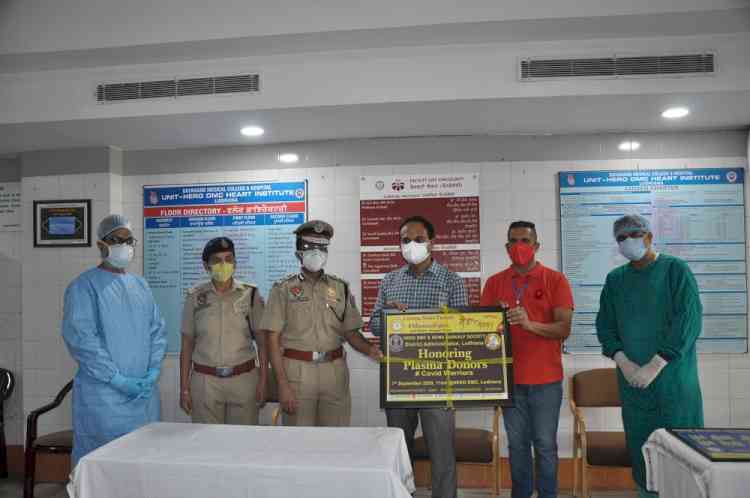 Ludhiana: Felicitation Ceremony for Plasma Donors was held today at Hero DMC Heart Institute. The dignitaries who presided on the function was Deputy Commissioner Virender Kumar Sharma and Police Commissioner Rakesh Aggarwal. Vice Principal and Chief Cardiologist Dr GS Wander along with Medical Superintendent (HDHI)  Dr Bishav Mohan, Dr Rajesh Mahajan, Professor of Medicine and President of Sewa Sankalp Society-Harpreet Sandhu (a renowned advocate)  were also present on the on the occasion.

Dr GS Wander and Dr Bishav Mohan extended warm congratulations to all the Plasma Donors present on the occasion. In his message, Dr Wander said that though we need to adopt  precautionary measures but instead of getting
panic, we need to follow  preventive measures with great care and attentiveness. President of Sewa Sankalp Society-Harpreet Sandhu lauded the effort of Plasma Donors in fighting this battle of COVID 19 pandemic

The function was held to honour the COVID Warriors, who have donated plasma after their successful recovery from COVID 19.

A special prepared slogan brochure depicting the message to boost up the plasma donors was launched by Deputy Commissioner, Ludhiana Varinder Kumar Sharma, along with Commissioner Police Ludhiana, Sh. Rakesh Aggarwal in the presence of other dignitaries present on the occasion.
In addition, President of Sewa Sankalp Society-Harpreet Sandhu said that today is  74th day of presentation of 'Awareness Posters' encouraging Plasma Donors to come forward to donate for this noble cause.