HCCB designs customized virtual engagement events to motivate its employees during pandemic
Released a music playlist to encourage its associates to stay home and practise yoga with family on International Yoga Day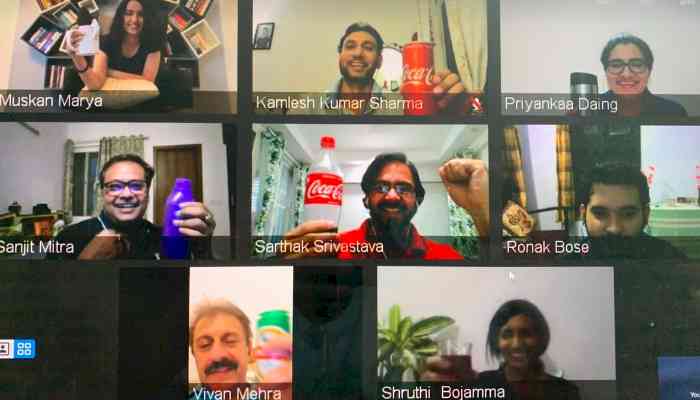 Pune: Hindustan Coca-Cola Beverages (HCCB), one of India's leading FMCG companies, has introduced several virtual employee engagement initiatives to keep its workforce motivated amidst the ongoing pandemic and prepare them for the long haul. With most of its employees scattered across geographies and remote locations, HCCB has designed customised online programmes to keep employees engaged. The virtual employee engagement programmes assume special significance for the HCCB employees who have adopted and adapted to new ways of working when physical proximity is ruled out during the current pandemic.
 
Designed for employees working from home, associates in the factories and depots and the sales teams in the field, the virtual engagement events were spread across different days of the week. For instance 'The Learning Hour' that includes webinars with digital activities to be carried out in groups or pairs with an aim to help employees gain new insights and knowledge is held on every Wednesday and Friday; 'The Wellness Hour' that includes online sessions from experts focusing on ensuring mental and physical wellness for the employees is organised on Thursday; 'The Talk Shows', an informal session conducted after office hours where employees virtually engage in free flowing conversations over evening drinks allowing them to catch up and discuss various topics that are of common interest to them, were held on alternate Fridays after office hours in the evening. Besides, the Happiness Team of the company keeps organising Virtual Talent Shows for its employees working from home.  
 
Additionally, HCCB has been conducting Virtual Training Sessions for its employees. These sessions are aimed at upskilling its employees in various domains. This serves as a platform for employees to remain engaged, learn and grow. A total of 25,000 such training hours, which apart from regular webinars also includes the company's digital training programmes such as the prestigious Harvard ManageMentor online platform, one of the world's best online learning portals and LinkedIn Learning, another online course designed for working professionals to help them bridge the gap between the career they want and the skills they need.  
 
Reflecting on the rationale for designing different employee engagement programmes, Mr. Indrajeet Sengupta, Executive Director and Chief Human Resources Officer, HCCB, said, "We were concerned about the physical, mental and emotional wellbeing of employees. We wanted to enable them to adjust and adapt to the changing work scenario quickly and without fear and anxiety. The programmes were designed keeping in mind the varied interests of our employees. It also provided them much needed breaks to prevent potential burnout. As a rule, all these programmes were optional and voluntary; thus giving our employees much needed flexibility."
 
To mark the International Yoga Day on June 21, 2020, HCCB released a music playlist to encourage its associates to stay home and practise yoga with family. The playlist was based on the music anthem composed by Dr. Ilaiyaraaja for HCCB.
 
HCCB has also introduced a recognition programme for the family members of its employees who have been a real support system for them as they continue to work from home for an extended period of time. For instance, the company arranged an online workshop 'Inking with Tinkle' wherein the employee children got an opportunity to learn and interact online with the Group Art Director and Editor-in-Chief of Tinkle, an Indian fortnightly magazine for children.
 
The company has also leveraged technological integrations and introduced a new chatbot to communicate with its employees on a real time basis during the pandemic. A separate section has also been created on the company's intranet to address all COVID-19 related queries for its employees. The company also introduced a feature on the chatbot for the employees to update their Daily Health Status and seek medical help and counselling of necessary 
 
Besides, HCCB has introduced different legs to its Virtual Townhalls. This not only includes an all company monthly townhall with the CEO and Senior Leadership but also functional, zonal and cluster townhalls. In a unique effort, HCCB is conducting virtual townhalls with a select group of third-party partners to extend its support amidst the ongoing pandemic. The purpose of conducting these townhalls is to express genuine concern for the safety and well-being of the employees, provide clarity on how the company is performing and share the company's business strategies and directions to emerge winners amidst pandemic.   
 
For its factory associates, HCCB has organised virtual Family Day, Music Sessions and various games that can be played while maintaining social distancing such as Tambola and Housie so on. The winning amounts from a few of these games are donated to the PM Care Fund. Similarly, for its sales teams, HCCB has been conducting various initiatives such as virtual recognition programme for sales performance, awards and incentives functions as well as talent shows. These initiatives bring out a different side of the factory and sales workers which might go unnoticed on a normal working day.
The efforts of the company to engage online with its employees have been well received by employees across all levels.