Haryana's first 'eWheelers' EV Fulfillment centre unveiled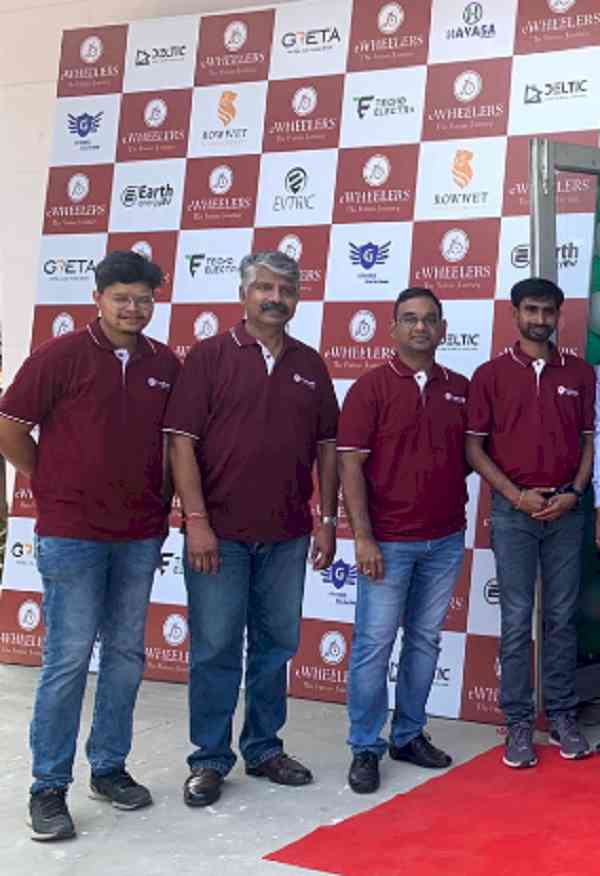 CEO of eWheelers Vasu Deva Reddy Beerala(4th from left) poses with his team at the unveiling of Haryana's unique Electric Vehicle Fulfillment Centre.
Electric vehicle marketplace eWheelers opens EV Fulfillment Centre in state
 
Chandigarh, October 9, 2021: Haryana government's initiative to promote electric vehicles (EVs') in the state is showing results. A unique Electric Vehicle Fulfillment centre has been unveiled at Ballabgarh by 'eWheelers Mobility', a renowned Electric Vehicles market place which is headquartered at Hyderabad. 
 
"The Haryana government is giving a subsidy on the purchase of E vehicles. This is a welcome step as EVs' will play a pivotal role in saving the environment. We are happy to be pioneers in bringing into the state a first of its kind EV Fulfillment Centre. The idea is to provide a physical outlet which can help in quick delivery of Electric Vehicles booked by customers' on our online platform. A holistic hyper-local ecosystem has been created by the unveiling of the EV Fulfillment centre." Said   Vasu Deva Reddy Beerala, CEO & Founder of eWheelers.
 
It is noteworthy that  eWheelers is an omni-channel mobility marketplace which covers both online and offline commerce squeezing the gap between EV OEMs'(Original Equipment Manufacturers'), services and the customers. This platform enables customers to book vehicles online and pick-up from the nearest eWheelers studio. Such a model is considered a hyper local delivery model ensuring faster delivery.
 
"The EV Fulfillment centre will provide access to eHoverboards, eSkateboards, eBicycles, eScooters & eMotorCycles, this platform will offer a wide range of mobility support alongside an add on digital access to charging stations and customer support. " said Prashant Mittal, Owner of the EV Fulfillment centre.
 
e Wheelers has also come up with a 'Single Sign On' mobile app empowering users to access multiple mobility services like Vehicle Services, Charging Services and Parking Services, avoiding the hassle to register at multiple platforms to get multiple mobility services.
 
 eWheelers Mobility Marketplace is getting stronger with many leading electric vehicle brands joining as partners. Few of its partners include GT Force, Hayasa, EVTRIC,TECHO ELECTRA ,Greta, DELTIC ,GTforce ,Nexzu,Svitch amongst many others.