Haryana CM thanks DLF on Twitter for contribution towards relief fund
DLF Foundation has been at the forefront working with all stakeholders to help the poorest of the poor in the midst of the Corona Virus pandemic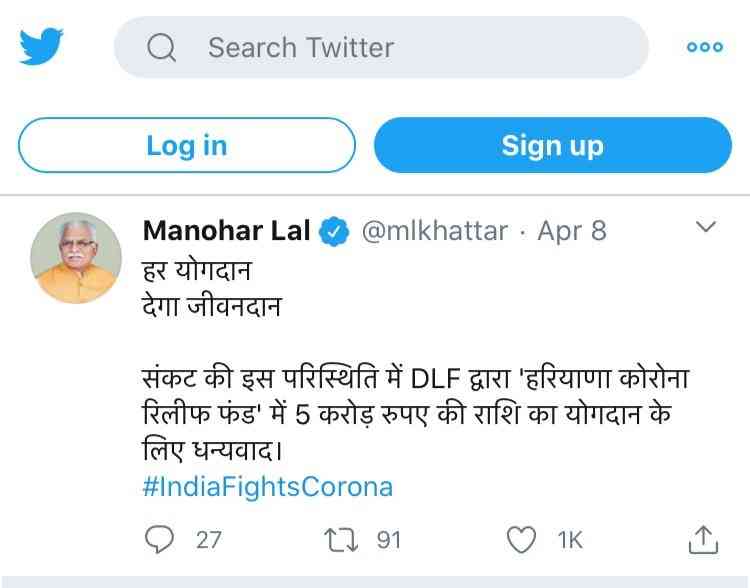 Gurugram: In a recent tweet posted on the official twitter handle of Haryana Chief Minister Manohar Lal Khattar, the CM thanked DLF, the realty major, for Rs 5 crore contribution to the Chief Ministers Relief Fund, Haryana. The tweet read: "Har yogdaan, dega jeewandan; Sankat ki is paristhiti mein DLF dwara 'Haryana Corona Relief Fund' mein 5 crore rupay ki raashi ka yogdaan ke liye dhanyawaad' (Every contribution will give life; we thank DLF for contribution of Rs 5 crore to 'Haryana Corona Relief Fund' during this time of crisis)
DLF Foundation has been at the forefront working with all stakeholders to help the poorest of the poor in the midst of the Corona Virus pandemic. DLF Foundation is ensuring distribution of more than 33 lakh meals to the poor in urban slums  and migrants in NCR   who are stranded , have lost their daily means of livelihood and have nowhere else to look for support.  The Foundation is working very closely with the District Administrations of Delhi , Gurugram and Noida which are helping in both identifying the most needy and distributing meals in areas where they are most required.
DLF Foundation is also providing Medical Relief and Safety Equipment  to the District administration for distribution to those in need. The Foundation has provided  75,000 face masks, 3 lakh examination gloves, full body suits and sanitizers to the district authorities in Gurgaon ,Noida and Chennai. It is regularly serving 60,000 cooked meals everyday through DLF Clubs and Akshay Patra. 
A sum of Rs. 50 lacs has been donated to the Tamil Nadu State Relief Fund, Rs 10 lacs to the Chennai Kanchipuram District Relief Fund, and Rs. 5 lacs to  the Society for Cyberabad Security Council in  Hyderabad.