Har Marz Ki dawaai se, Zee TV par miliye Mithai se!
Leads Debattama Saha and Aashish Bhardhwaj launched this Mathura-based show by playing Vrindavan style Phoolon Wali Holi with the media fraternity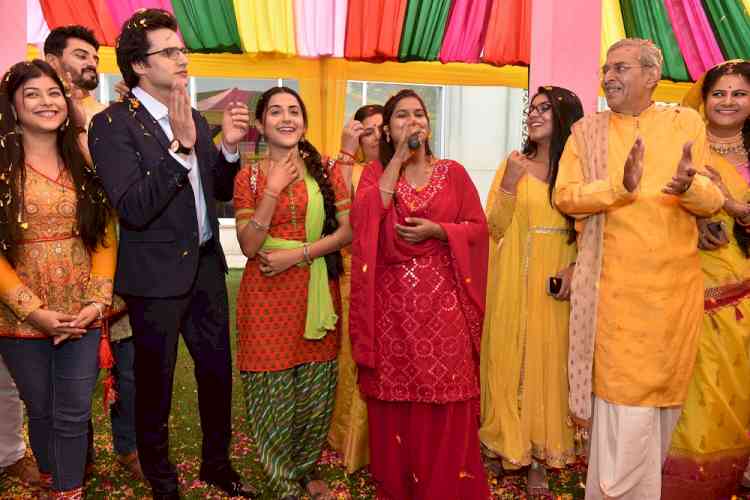 Aashish Bhardhwaj a.k.a Siddharth and Debattama Saha a.k.a Mithai with Sa Re Ga Ma Pa contestant Sanajana who sang the title track of the show of Zee TV's upcoming show Mithai.


Mumbai, March 25, 2022: In India, almost every occasion that we celebrate is incomplete without the presence of 'Mithai'. With stories around their origin passed down generations after generations, our traditional sweets hold a lot of cultural significance that runs much deeper than just the taste buds. There is an emotional connection that each of us has with our favourite mithai. Keeping this thought in mind, Zee TV's upcoming fiction show 'Mithai' will take us back to our roots through an amalgamation of a love story and a family drama all tied together inside a sweet box of traditional Indian sweets.
 
Produced by Arvind Babbal Productions, Mithai is set against the backdrop of Mathura and captures the journey of a bubbly and chirpy sweet-maker, whose name is also coincidentally 'Mithai'. The show will take viewers into the by-lanes of Jatipura where barely four shops exist today that prepare a unique traditional sweet called Aloo Jalebi which is served as the mahaprasad at the Mukharvindh Temple. The protagonist Mithai wants to spread smiles with her late father's traditional recipe. Mithai will premiere on 4th April and air from Monday to Saturday at 7 pm, only on Zee TV!
 
Popular television actress Debattama Saha is all set to make you fall in love with Mithai,  as she gears up to essay the titular character. As the male lead opposite her, television actor Aashish Bhardhwaj will portray the role of Siddharth, a software engineer by profession and the grandson of a heritage Indian sweets business family in Mathura. Unlike Mithai, he resents sweets because he blames his father for having focused on his sweets business instead of tending to his mother's health which led to her untimely death, and he wants nothing to do with his family's business.
 
Mithai was introduced to media in a unique way where she entered on her bicycle with garma-garam Aloo Jalebiyaan for the media and played Vrindavan style – Phoolon Wali Holi with the entire cast of the show.  At the launch event, she danced to the title track of the show sung by Sa Re Ga Ma Pa contestant Sanjana Bhat.  
 
Zee TV Business Head Aparna Bhosle said, "With Mithai, we want to infuse our early primetime with the positivity of this vivacious girl from Jatipura who wants to spread smiles with her late father's unique traditional recipe of Aloo Jalebis  … her journey of building a relationship with her husband who deeply resents the very concept of sweets will be an intriguing journey for audiences to follow. We have shot extensively in Mathura to capture the true cultural essence and the authentic backdrop of our narrative.  We look forward to yet another successful collaboration with writer-producer Arvind Babbal with this show!"
 
  
Actor Debattama Saha said, "I look forward to bringing Mithai to life. The script of this show was something I couldn't have possibly said 'NO' to. I believe the show's narrative is quite different from other typical fiction shows and the protagonist has a distinct personality. She's bringing joy to the city with something as unique as Aloo Jalebi. I'm pleased to see how this character develops on television, and I hope that all viewers will be able to relate to her journey. We have shot extensively in Mathura and it has been a fun experience for all of us. In just a short time span, we have all developed a great chemistry amongst us and I am sure that will reflect on screen too."
 
Actor Aashish Bhardhwaj said, "Siddharth's character is very beautifully written by the show's makers. My character intrigues me as much as the show's theme since he is an intense young man whose mindset has been shaped by some stark experiences from his past. As a result, he feels strongly about certain aspects and sticks to his principles and beliefs. It has been lovely working with Debattama and traveling with the whole cast and crew to Mathura has brought us all together. This character is quite different from what I have played on-screen before, so I am really excited to see how the viewers respond to my new avatar."
 
Producer Arvind Babbal said, "After presenting audiences with a heart-warming narrative like Kyun Rishton Mein Katti Batti, our next show with Zee TV revolves around a girl from Jatipura who wants to spread joy through her late father's traditional recipe of Aloo Jalebis, a legacy she refuses to let go of. Her relationship with Siddharth whose resentment for sweets dates back to some heart-wrenching events in his childhood will hopefully captivate our audiences. To authentically bring alive the cultural backdrop of the show, we have a lot of crew and cast members from the region and that has helped infuse our narrative with a lot of cultural nuances. We have recently completed an extensive outdoor schedule in Mathura. We hope the viewers connect with Mithai's journey and shower her with a lot of love."