Happy birthday to you
Radisson Blu Hotel MBD Ludhiana celebrates 7th anniversary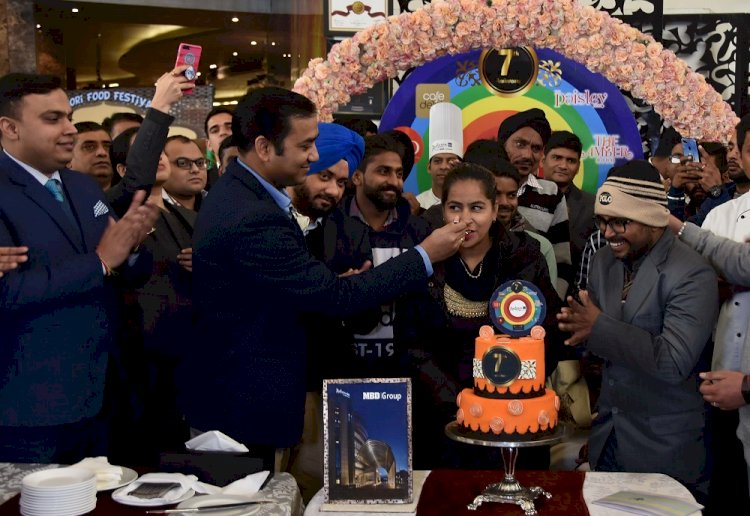 Ludhiana: Ludhiana's first 5 star luxury hotel, Radisson Blu MBD Hotel marks the 7th anniversary of providing bespoke indulgence and comfort to its guests.  Started in 2012, this hotel has set a high standard for luxury hospitality in the city's central business district. Driven by the vision of the founder, Shri Ashok Kumar Malhotra who established the MBD Group as the largest education company in India, an entrepreneur par excellence also envisioned the Group's diversification into Hospitality and Retail amongst others.
 
Radisson Blu Hotel MBD Ludhiana presented a series of seven celebration activities including cooking sessions for pan Asian, Indian dishes, continental food and mocktail sessions by chefs from it's award winning restaurants like RED, Made in India Café Delish and Dot Peg. In addition, a rejuvenating yoga session at ESPACE, cake cutting celebration with the under privileged members of Sarthak NGO and flash mob was hosted to mark this occasion.
 
 
Since opening its doors, Radisson Blu Hotel MBD Ludhiana paved the way for the new standard of hospitality in Punjab. In these 7 years, this hotel of MBD Group has not only showcased the transformation efforts but also reinstated Group's commitment to contribute in the growth of the hospitality segment in India. Radisson Blu MBD Hotel's renowned hospitality has attracted thousands of guests and has distinctly defined itself as a trendsetter.
 
Recently, Radisson Blu Hotel MBD Ludhiana is also named as the "Iconic Luxury Hotel" by Times Hospitality Icons 2019 whereas Made in India, fine dining specialty restaurant has been honored with Haute Grandeur Global Excellence Awards for 'Best Hotel Restaurant in India'. Known for providing travelers with quality service, this hotel is grateful to it loyal guest for this honor. We will continue to refine our personalised service standards, whilst connecting with and giving back to the community we serve.
 
Mrs. Satish Bala Malhotra, Chairperson, MBD Group, said, "Since the day our hotel doors opened, our team has been dedicated to providing exceptional hospitality and creating memorable moments for each guest. The leadership and dynamic vision of Shri Ashok Kumar Malhotra guided the Group's expansion and diversification goals to become a successful conglomerate."
 
Commenting on the special occasion, Ms. Monica Malhotra Kandhari, Managing Director, MBD Group, said, "The story of Radisson Blu Hotel MBD Ludhiana has been one of incredible success, innovation, and perseverance. Thank you to every associate for bringing our Founder's vision to life, and thank you to our guests for embracing MBD Hospitality to create their favorite travel, culinary, wellness and cultural memories over these years. The future is bright for us, and we are looking forward to crafting more memories for years to come.
 
Ms. Sonica Malhotra, Joint Managing Director, MBD Group, said, Ms. Sonica Malhotra, Joint Managing Director, MBD Group, said, "We are proud to have written another chapter in the brand's legacy, reinstating our commitment to contribute in the growth of the hospitality segment in India. It has been a wonderful journey of 7 years, hotel has quietly, but distinctly defined itself as a trendsetter and is the top performing hotel in the competition set. We consistently achieved outstanding milestones, manoeuvring several challenges. At MBD Group, we always maintain that one must strive to attract, nurture, retain local talent and ensure there's always a positive impact on the local community."
 
At MBD Group, hospitality is not about serving but also treating guests with elegance and excellence. Radisson Blu MBD Hotel Noida, the flagship hotel of MBD Group has been rated as on one of the most revered name in the hospitality sector and has been distinctly defined as a top performing hotel in Delhi NCR with highest guest scores. Aimed at redefining luxury at Bengaluru, Zephyr, An MBD Steigenberger Hotel is the pioneering mixed-use development entailing Luxury Hotel and Luxury Serviced Apartments. MBD Steigenberger promise hospitality made in Germany and delivered in India. Targeting to open at least 20 hotels in India over the next 15 years, this JV presents German precision tailor-made for Indian guests while ensuring outstanding global standards and a luxurious environment. MBD Express aims to tap remarkable increase in demand for quality accommodation in budget segment. 

To celebrate this important moment in the hotel's history with guests, an exclusive series of special packages across rooms and restaurants along with a lineup of CSR events was organised. The hotel offered a special 7th Anniversary Celebration Package including, buffet breakfast, late checkout and signature giveaways.