Handloom India Exhibition begins at Himachal Bhawan
Handloom India Exhibition with the latest variety and designs of fine silk and cotton handloom sarees, for the summer and wedding season, has started at Himachal Bhawan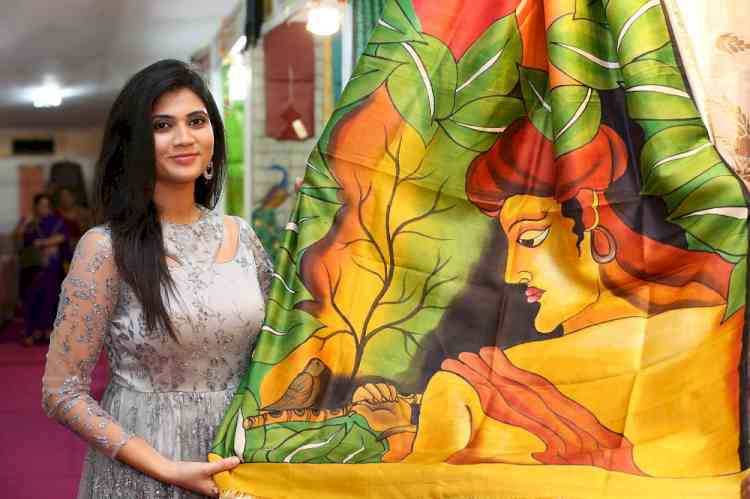 Chandigarh, February 21, 2022: Handloom India Exhibition with the latest variety and designs of fine silk and cotton handloom sarees, for the summer and wedding season, has started at Himachal Bhawan, Sec 28 here. The showcase will continue till February 27. The sarees on display are crafted by experienced and skilled craftsmen from across the country.
 
Jayesh Gupta who is organising the exhibition by getting all original artisans from all over the country under one roof said, "Lavish sarees and dress materials, brought from all parts of the country, are showcased in the exhibition. Silk sarees are available in a variety of designs, patterns and colour combinations. At the same time, a captivating collection of fashion jewelry is also on display. Gujarat's Handmade Patola Sarees are available in the range of Rs 15 thousand to 2 lakhs, each piece of this variety  takes eight months to prepare. It is woven twice and each thread is dyed separately. Due to the use of pure silk, this saree is expensive."
"At the same time, in the Paithani sarees of Maharashtra, ranging from Rs 5,000 to Rs 20,000, there is a glimpse of rural life , Mughal art and these present a majestic style too," added Gupta.
 
The weavers of Banaras keep on experimenting in various ways to make their sarees popular as per the new trends. Sometimes they print a garden scene on Banarasi sarees, and sometimes prepare motifs for Paithani sarees of Maharashtra. From traditional Banarasi Zari and Kadhwa Booti sarees to Tanchoi silk sarees all are available in a competitive price range of Rs 1000 to 5000.
 
The weavers from Bhagalpur (Bihar), famous for silk weaving, have brought handmade silk and Modi jacket fabric for kurta-pajama to be worn at wedding functions. The Kanjeevaram sarees of pure zari work from Tamil Nadu are very much appreciated by the fashion conscious women of tricity. Weavers take 30 to 40 days to prepare a saree made of gold and silver wires, whose price starts from Rs 5,000 to Rs 2 lakh. Mysore silk sarees along with crepe and georgette silk, tussar silk from Bihar, Upada from Andhra Pradesh and Coral silk from Orissa are also available in the exhibition.