Guidance and strictness of parents and teachers paves  way to success: Babita Phogat
She was chief guest at 6th annual sports meet in CGC Jhanjeri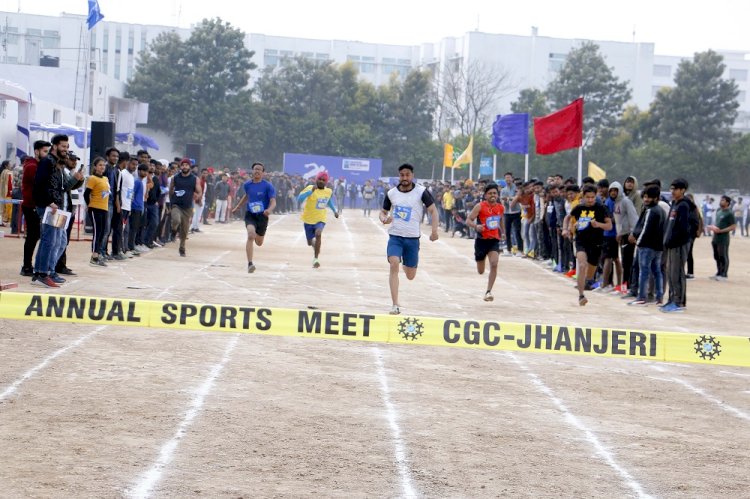 Mohali: Chandigarh Group of Colleges, Jhanjeri organized  Sixth Annual Sports Meet with enthusiasm.  Babita Phogat the well-known wrestler of India was the chief guest and  Ajay Thakur, Captain of Team India (Kabaddi) was the guest of honour. The whole day was full of excitement and enthusiasm. A large number of events including races of 1500M, 800M, 400M, 200M, 100M, Discus Throw, Long Jump, Triple Jump, High Jump, Shot Put, Spoon race, Chatti Race, 4x100M Relay Race, Javelin Throw, 400M hurdles, Tug of War, 50M race of Male Faculty/Staff & Female Faculty/Staff etc. was organized at the moment . Based on the highest score calculated on the basis of Gold/Silver/Bronze medals won by a student. Sahil Thakur B.Com(H) 6th Sem&  Kavita Rani B.Sc (FT) were declared as the best athletes of the college.
Addressing the students, chief guest Phogat advised them to be disciplined in life. According to her the parents & the teachers sometimes appear to be strict, which paves the way to  success after putting in hard labour.
Speaking on the occasion, Rashpal Singh Dhaliwal, President CGC announced cash prizes for all the winners of various Inter College Sports competitions organized by IKG Punjab Technical University, Jalandhar during the last year. Dr. G.D Bansal, Director General said that in today's competitive era, only academics do not make a student, successful. Overall personality including sports & other activities play an important role in ensuring success in life.