Guest lecture on topic 'Mossbauer Spectroscopy as potential tool to study iron compounds'
The resource person was Dr. Manpreet Kaur from the Department of Chemistry, PAU, Ludhiana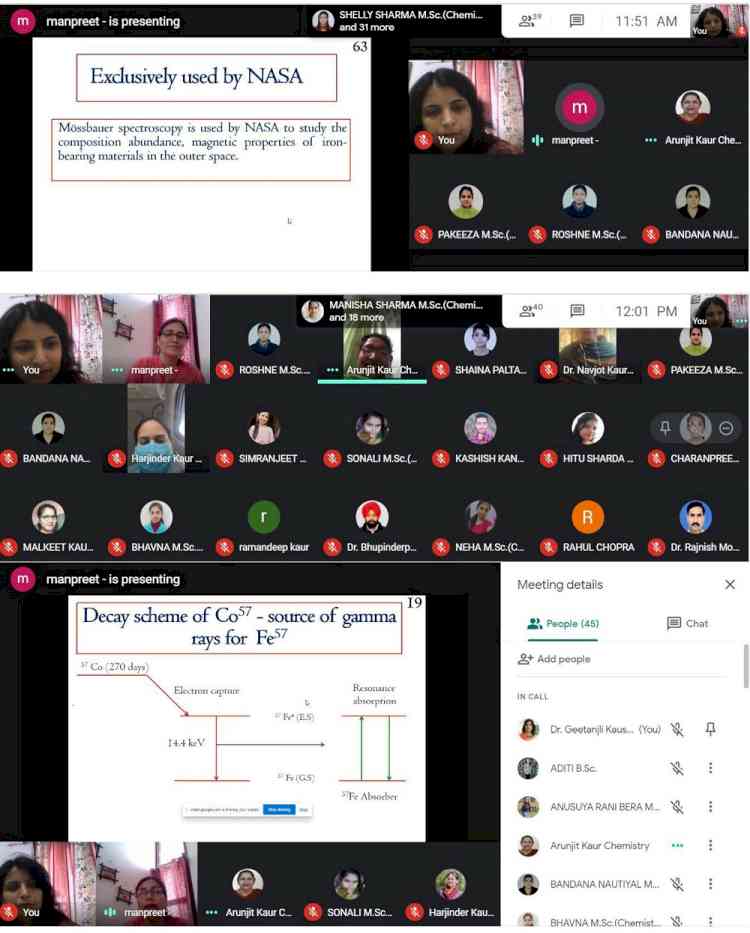 Jalandhar: Mendeleev Society of P.G. Department of Chemistry, Lyallpur Khalsa College, Jalandhar organized a guest lecture on the topic 'Mossbauer Spectroscopy as potential tool to study iron compounds'. The resource person Dr. Manpreet Kaur from the Department of Chemistry, Punjab Agriculture University Ludhiana enlightened students about recent applications of Mossbauer spectroscopy.
Principal Dr. Gurpinder Singh Samra gave appreciation for efforts of department to let students learn from such lectures. Dr. Samra conveyed that every effort should be made so that our students can keep pace with recent advancements in research methodologies. Head, Department of P.G. Department of Chemistry, Prof. Arunjit Kaur encouraged students to get maximum benefit from such information. All M.Sc. Chemistry students as well as many postgraduate alumni of the department and B.Sc. students benefitted from knowledge given through the expert lecture. The proceedings of the guest lecture were managed well by Dr. Geetanjli Kaushal.  
The faculty members of Lyallpur Khalsa College Dr. Rajnish Moudgil, Dr Navjot Kaur, Dr. Bhupinder Pal Singh, Dr. Vikas, Dr. Harshveer, Dr. Harjinder Kaur and Dr. Ranju Mahajan attended the lecture.