Guest lecture on GST
Resource person Sumit Thapar gave overview of GST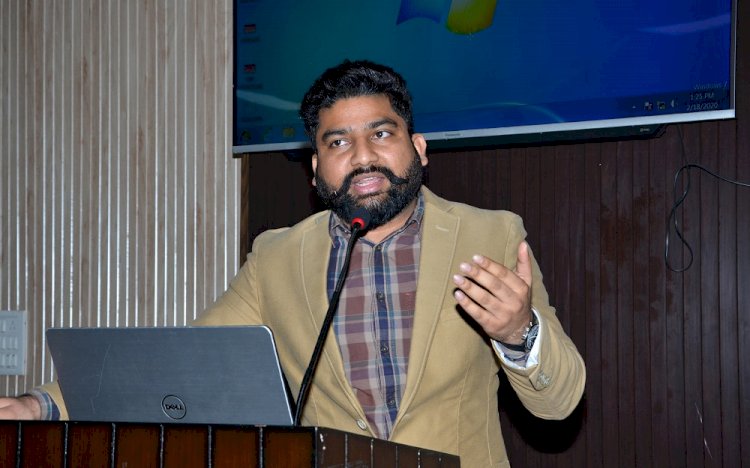 Jalandhar: The PG Department of Commerce & Business Administration, Lyallpur Khalsa College, Jalandhar organized a guest lecture on GST. The resource persons were D.S. Garcha, Assistant Commissioner, Excise and Taxation Jalandhar and Sumit Thapar, Excise and Taxation officer (ETO) Jalandhar.
The speakers were given floral welcome by the Principal Dr. Gurpinder Singh Samra along with Head of the Commerce Department, Dr. Rashpal Singh Sandhu. Resource person Sumit Thapar gave an overview of GST along with the explanation on various queries asked by the students. He also elaborated that main issue of decline in collection of GST is the economic slowdown in the market. As the GST is of recent origin needs more time to ensure effective implementation. The purpose of GST is to ensure one tax one nation as well as simplification of indirect taxation both for goods and services. He also explained that it is moral duty of every citizen to pay taxes honestly for the development of nation. The various teams relating to GST including ITC, TCS, IGST, UGST, CGST & SGST place of supply in case of e-commerce players were discussed in detail along with practical examples.
D.S. Garcha explained GST as taxation reforms for nation development. He also explained about the reduction of GST rates by the govt. from time to time. He also asked to inform the GST department regarding any information or complaint regarding GST practice. All the queries by the students were elaborately explained by the resource persons. To conclude the program, Head of the department, Dr. R.S. Sandhu thanked the resource persons for their presence on this occasion wherein a large number of students and faculty members were present.