Grazing permits of sheep farmers will be digitized in Himachal: Pathania
Says for this the documents have been collected by the forest department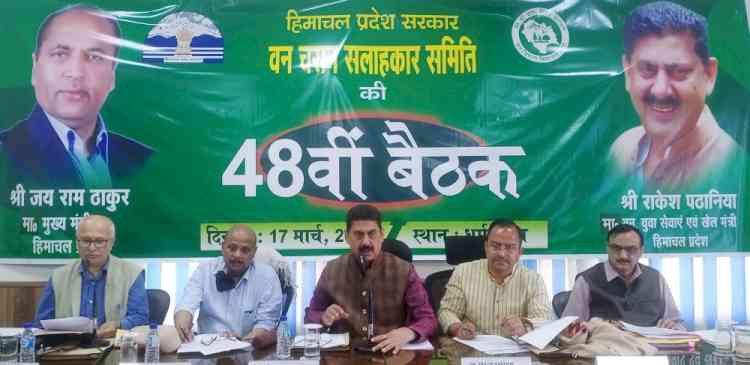 Dharamsala, March 17, 2022: The grazing permits of sheep farmers will be digitized in the state and for this the documents have been collected by the forest department so that sheep farmers can get their permit renewed from anywhere in the state. After presiding over the 48th meeting of Charan Advisory Review Committee at Circuit House in Dharamsala, Forest, Sports and Youth Services Sports Minister Rakesh Pathania informed that web based application for Charan (grazing )Permit has been prepared and fully digitized Charan Permit will be issued in the coming financial year.
 
Forest Minister Rakesh Pathania said that the period of renewal of grazing permit has been increased from three years to six years so that the sheep farmers do not face any kind of inconvenience.
 
 Rakesh Pathania said, " The pasture routes are also being digitized. In the first phase, the work of digitization of eight pasture routes has been completed."
 
Minister  said that lantana grass is being removed prominently in the pasture areas and fodder species are being promoted in the forests, for which budget provision is being made under CAMPA and various other schemes.
He said that it has been decided in the meeting of the committee that the dumping tank, lake and temporary shed will be provided under the Integrated Development Plan by marking three places in each of the most used traffic routes by sheep farmers  of district Chamba, Kangra.
 
The Forest Minister said that serious steps are being taken to prevent theft of sheep and goats of this community in the transit routes.
The Director General of Police has instructed all District Superintendents of Police to set up helpline numbers for the convenience of sheep farmers.
On this occasion, Wool Federation Chairman Trilok Kapoor, Principal Chief Conservator Ajay Srivastava and  Various officers of the Forest Department and non-official members were present on this occasion.