Grand inauguration of India's 2nd  ACIC at Chandigarh Engineering College, Landran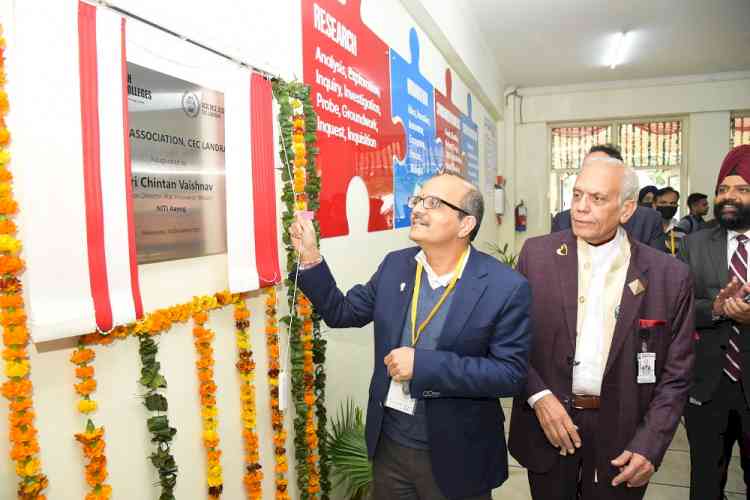 Chandigarh, December 1, 2021: A grand 2-day event was initiated at Chandigarh Engineering College with the inauguration of India's 2nd Atal Community Innovation Centre (ACIC) under the aegis of Atal Innovation Mission (AIM), NITI AAYOG in the college premises. Titled as 'ACIC RISE Association', this division is exclusively designed to build up an ecosystem of entrepreneurship and innovation to support the young minds in their creative ideas for startups that can solve the problems of semi-urban and rural areas, addressing the community issues at large.
Dr. Chintan Vaishnav, Mission Director, Atal Innovation Mission (AIM) NITI Aayog,  graced the occasion as the Chief Guest along with Guest of Honour Mr. Hardeep Singh Somal, Senior Consultant from Invest Punjab. Together with them, Mr. Manglesh Yadhav, Program Director, ACIC, AIM NITI Aayog also joined in with the team members.
Addressing the participants, Dr. Chintan Vaishnav shared, "Our idea is to build incubators that can cater to the community-oriented innovations and create an ecosystem for nurturing valuable ideas that can benefit the society as a whole. Given the top-class work being done by Chandigarh Engineering College in terms of providing excellence in research and education, this institution is the perfect choice for this initiative."
Besides the inauguration, the day witnessed the launch of "In Quest of SDGs – An Ideathon 2021" a platform for budding researchers and entrepreneurs from across India to pitch in their startup ideas, among which the best ones will be rewarded with cash prizes on Day 2 of the event.