Govt College of Yoga Education and Health celebrates 72nd Republic Day
The flag unfurling ceremony was graced by the Chief Guest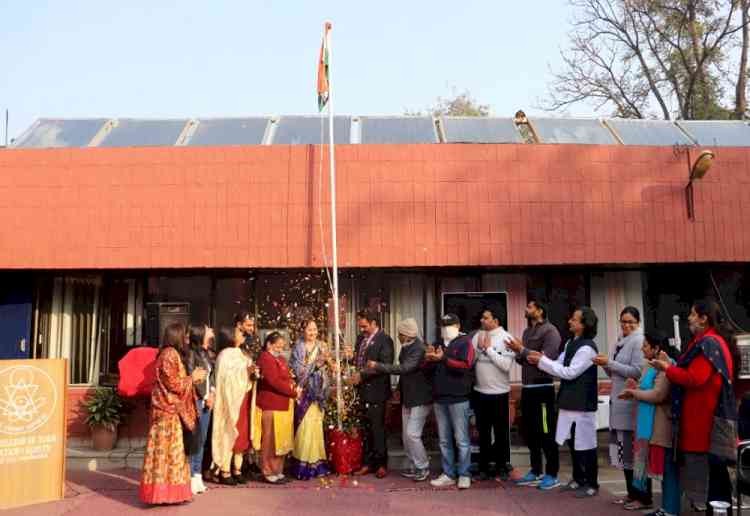 Chandigarh: Govt. College of Yoga Education and Health, Sector 23 A, Chandigarh celebrated the 72nd Republic Day in the college. Dr. Sapna Nanda, Principal of the College welcomed the Chief Guest Mr. Sarpreet Singh Gill, I.A.S. Secretary Education, Personnel U.T. Administration Chandigarh. Students, Faculty and General Public Members on this prestigious occasion.
The Principal in her address emphasized that the citizens of India particularly youth should reaffirm their commitment towards the constitution and dedicate themselves to build an inclusive, sustainable, peaceful and progressive India. She urged everyone to pause and ponder over the core values that the constitution propounds.
Thereafter the flag unfurling ceremony was graced by the Chief Guest who was accompanied by Principal, staff, students and public members, followed by National Anthem. To showcase love and respect towards the Motherland, a medley of patriotic songs was presented by the students of the college.
The Chief Guest, Mr. Sarpreet Singh Gill in his presidential address stressed upon imbibing the values enshrined in the Constitution and cherish the ideals of liberty, equality, fraternity and justice for all which are the foundation of our preamble. He emphasized on incorporating Yoga in daily lifestyle for building a healthy and sustainable India.