Government to embark one-week awareness drive to check youth from falling prey to scourge of drugs:  MLAs Dawar, Lakha and DC
Chairmen exhort youths to play a proactive role in nation building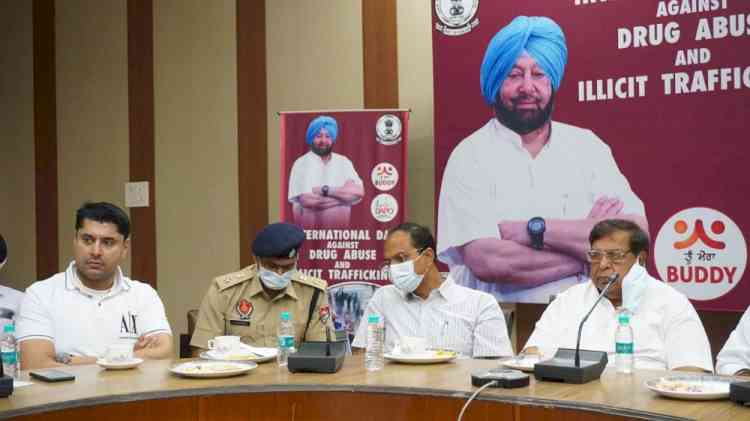 Ludhiana: MLAs Surinder Dawar, Lakhbir Singh Lakha and Deputy Commissioner Varinder Kumar Sharma said that the state government would embark on a one-week awareness drive to further check the scourge of drugs by effective channelization of the unbounded energy of youths.
Participating in a state-level virtual function held to mark International Day against Drug Abuse and Illegal Trafficking presided by Chief Minister Capt Amarinder Singh, MLAs and Deputy Commissioner accompanied by District Planning Board Chairman Malkit Singh Dakha, PLIDB Chairman Pawan Dewan, PMIDB Chairman Amarjit Singh Tikka, PYDB Chairman Sukhwinder Singh Bindra, PSIDC Chairman KK Bawa, Zila Parishad chairman Yadwinder Singh Jandiali, Senior Deputy Mayor Sham Sunder Malhotra, Joint Commissioner of Police J Elanchezhian, said that state government has snapped the supply line of drugs, now it has decided to start a major sensitization drive through school and college students so that the drug dependents can contribute immensely for socio-economic development of state instead of falling prey to drugs. 
They said that under the visionary and dynamic leadership of the Punjab Chief Minister Captain Amarinder Singh, the roadmap for this drive has already been made and said the administration would leave no stone unturned to ensure that the menace of drugs gets completely wiped out from the state.
They said that the state government has opened drug de-addiction and OOAT centres for the treatment of the drug dependent youths which have been receiving an overwhelming response with 100-percent of them are undergoing treatment in these centres. They told that these centres are changing the lives of drug-dependent youths as the treatment is being offered here is helping them to get rid of the drug abuse and it has given a new lease of life to them and their families.
They added that the administration is also providing employment opportunities by sharpening their skills in various trades being started in the centres.
Meanwhile, Commissioner of Police Rakesh Aggarwal said that in a special drive from June 19 to today, Ludhiana Police have conducted 300 raids on POs, bail jumpers, parole jumpers. As a result, 27 FIRs have been registered and 38 accused have been arrested. He said that 755-gm Opium, 2.5 kg poppy husk, 10.2 KG Ganja, 125-gm heroin, 330 Intoxication tablets were seized in this week-long drive.
He added that 26 Kalandras against habitual drug accused were filed and they were sent to jail and properties worth Rs 61 lakh of two drug peddlers were got forfeited from the competent authority based at New Delhi. Properties of 15 more drug peddlers have been identified and the forfeiture procedure regarding these have been started. 
In addition to this, case properties of 117 NDPS cases are being destroyed as per procedure today at Khanna paper Mill, Amritsar as part of a state-level drug disposal scheme, he added. 
On this occasion, Senior Congress leader Satwinder Kaur Bitti, ADC (General) Amarjit Bains, Civil Surgeon Dr Kiran Ahluwalia Gill and others were also present.