Government should help industry: FICO
Industry cannot pay wages and salary of April to workers sitting at home due to lockdown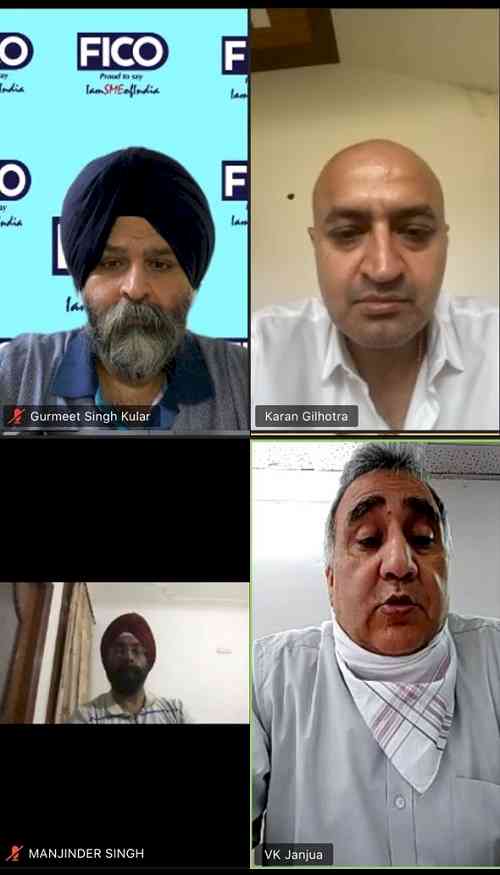 Ludhiana: PHD Chamber of Commerce and Industry along with FICO-IamSMEofIndia organized a Zoom Webinar regarding salary and wages for the period of lockdown. 
V.K. Janjua, Principal Secretary, Department of Labour, Punjab was the keynote speaker.
Karan Gilhotra, Chairman, PHD Chamber Punjab Zone  Gurmeet Singh Kular Zonal Chairman PHD Chamber Ludhiana and President FICO, Manjinder Singh Sachdeva Sr.Vice President FICO along with Ashpreet Singh Sahni Organizing Secretary FICO took-up the issues pertaining to the industry and said the menace of deadly covid-19, has hit the whole nation and there is a nationwide lockdown since 22nd March 2020. As a result, the factories are closed, not only the production is zero but the flow of finances is also zero, no cashflow is being carried out throughout the country. Things are so bad that the goods which were dispatched before 22nd March are stuck up somewhere in the transit, as all the dealers and traders are shut down.
This is a very critical position for the industry, and the industry is not in the position to pay the salary and wages for the month of April to the labour sitting home.  They requested the GoI and the Punjab Government as well to intervene and share 50% of the salaries and wages each to help the industry by paying the salaries and wages for the month of April, 2020 for the lockdown period.