Going beyond boundaries is essential for any country to achieve sustained economic growth: Sanjiv Bajaj
Confederation of Indian Industry (Southern Region) as part of its Annual Regional Meeting organised a Summit on "South [email protected]: Going Beyond Boundaries"  here today.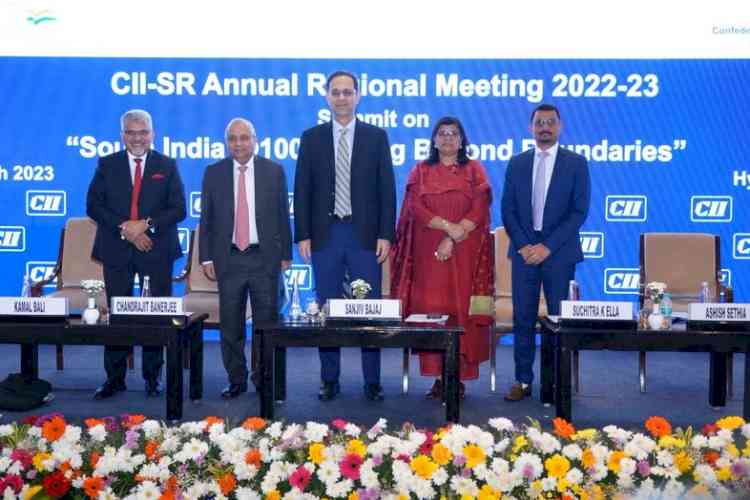 Hyderabad, March 17, 2023: Confederation of Indian Industry (Southern Region) as part of its Annual Regional Meeting organised a Summit on "South [email protected]: Going Beyond Boundaries"  here today.
While speaking at the Panel Discussion on "Indian [email protected]: Towards Transformation"  Sanjiv Bajaj, President, CII & Chairman & Managing Director, Bajaj Finserv Ltd said that Next decade belongs to India. We are as a country innovating for the world. Now we have a vibrant innovation ecosystem in the country. Top three developments in next 25 years would be Physical & Digital infrastructure, Climate Change is going to have major impact on many businesses and it may sunset some of the industries, Industry need to adopt to ESG Compliances and there is more work need to be done in terms of standards of Ethics, Standards of Governance etc. The World is looking at India's leadership in this area. Amidst global geopolitical uncertainty and inflation, there lies opportunity for the Indian Industry. India can be one of the major manufacturing hub for the world, he said. The increasing adoption of digital technologies could also transform the Global Value Chains, with companies using blockchain, AI, and other technologies to enhance supply chain transparency, improve efficiency, and reduce costs, he added.

Chandrajit Banerjee, Director General, CII said that CII through the [email protected] Foundation and its initiatives like volunteering initiatives, functional literacy programmes, and National Volunteering Grid, has made efforts to give shape to the [email protected] vision. Now we are working on the vision to be developed on the parameters of economic, moral and technological leadership for [email protected]. Overall, the digital universe in 25 years will likely be characterized by even greater integration of technology into our daily lives, 2047 will see an increasingly important role in the digital world. 

Suchitra Ella, Chairperson, CII –Southern Region & Co-Founder & Managing Director, Bharat Biotech International Ltd said that India has been making great strides in improving its ecosystem for Innovation which is evident in its improvement in the Global Innovation Index. India is ranked 40th in the Global Innovation Index 2022. India has also performed well in areas such as Knowledge creation, impact, and its diffusion. We need to build  the adequate infrastructure that supports innovation. Several Governments are encouraging their industries to relocate their production lines to alternate geographies. This situation presents a huge opportunity for India to attract investments and create global scale manufacturing infrastructure that can not only fulfil domestic demands but be the 'factory' to the world. 

Kamal Bali, Deputy Chairman, CII – Southern Region & President & Managing Director, Volvo Group India said that some potential developments in the industry over the next 25 years may include further automation and digitization, as well as an increased focus on sustainability and environmental responsibility.  
With the growing concerns over climate change and the impact of industrial practices on the environment, it is likely that companies will invest in renewable energy and green technologies, as well as adopt circular economy principles to reduce waste and minimize their carbon footprint. There would be  a massive impact of climate change on economy, industry and development. The increasing frequency of extreme weather has the potential to create significant damage to infrastructure and disrupt supply chains, leading to higher costs and reduced productivity. 

Ashish Sethia, Global Head - Commodities, Energy & Environmental Markets, Bloomberg NEF said that to drive the sustainability agenda, we need to localize the supply chain and adopt more to clean energy solutions and use clean transportation.