GoI team of SBM (G) visits 3 villages of block Aur of SBS Nagar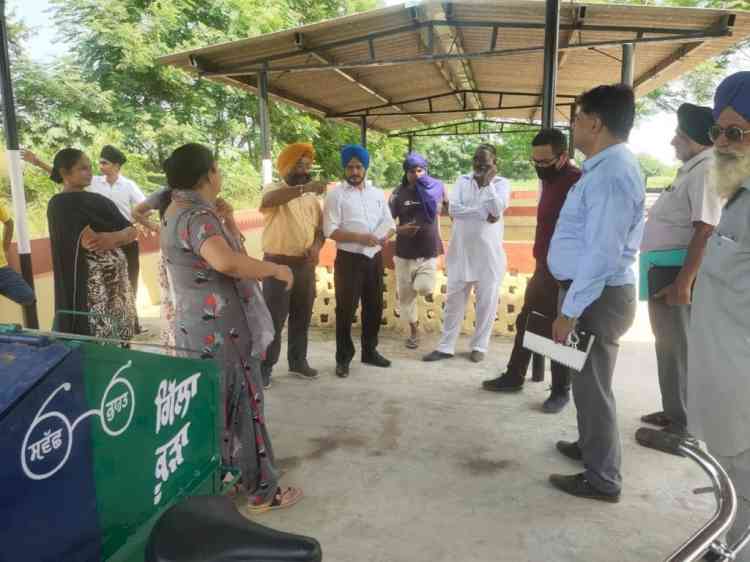 Nawanshahr, September 17, 2021: Amidst the celebrations of 'Azadi ka Amrit Mahotsav' which are going on to commemorate 75th anniversary of India's Independence by conducting Sarpanch Samvad, Swachhta hi Sewa Campains, Rath Yatras, awareness camps in the villages, a team of officials from Swachh Bharat Mission Grameen (SBMG), Government of India visited the three villages of block Aur of district SBS Nagar to participate in the 'Swachhta hi Sewa' activities and to monitor the progress of Swachh Bharat Mission (Grameen) Phase 2 in the villages.
           
The team led by Karanjeet Singh, Joint Director SBM (G) and Ayan Mujumdar, Consultant GOI visited villages Bakhlour, Bharta kalan and Kariam where they explained the gram panchayat as well as other community members about the on-going campaign and their crucial role in it.
 
Further, he insisted that gram panchayats should conduct awareness camps in order to educate the villagers to stop single use plastics in their villages in order to make their villages neat and clean.
 
While visiting the Solid Waste Management projects Sh. Karanjeet told that it is good that villages are taking up these projects but should focus on zero waste at household level. Similarly, for Liquid waste management he guided that treated water must be used for irrigation as well as other purposes.
 
Rajesh Chadha, BDPO Aur, Joga Singh, Works Manager, Hardeep Singh, SDE Sanitation, SBS Nagar and Sevya Sharma, CDS Sanitation were present during the field visit.