Globalization has increased importance of comparative law
Aver Experts at International Conference on Comparative Law at Amity University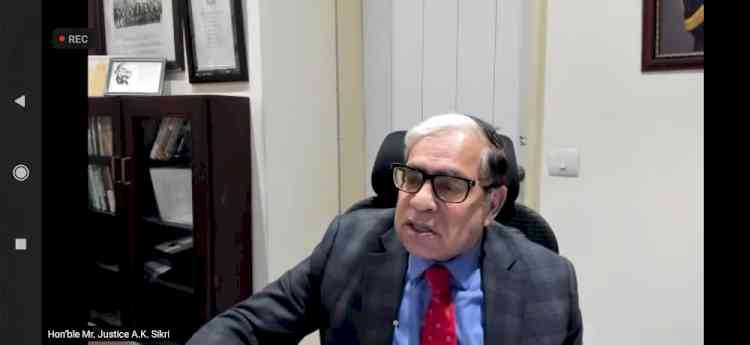 Hon'ble Mr. Justice A.K. Sikri, Former Judge, Supreme Court of India sharing his views.
Having deliberated on the various facets of comparative law, the two-day International Conference on Comparative Law culminated at Amity University. The conference was organized by Amity Law School, Noida in collaboration with the School of Business and Law, Edith Cowan University, Australia.  
Dr. Ashok K. Chauhan, Founder President, Ritnand Balved Education Foundation welcomed the gathering to the conference and shared how the synergy of minds through various deliberations will help students develop a comprehensive outlook.  
Hon'ble Ms. Justice Indira Banerjee, Judge, Supreme Court of India talked at length about the various facets of comparative law and shared that the subject of this international conference is more relevant today than ever before. She added that in the present age of internationalism, globalization, and democratization the importance of comparative law, which is an analytical in-depth study of similarities and differences between the legal system and laws, has increased manifold. She averred that lawyers, academics & political scientists are concerning themselves increasingly with a collective understanding of how constitutions are made; how civil, political, economic laws evolve and how they operate.     
Mr. Justice A.K. Sikri, Former Judge, Supreme Court of India; Judge, Singapore International Commercial Court and Chairperson, News Broadcasting Standards Authority shared that the topic of the conference is extremely relevant in the present times. He added that globalisation has brought countries together & boundaries are vanishing when it comes to economics, commerce & human resources. He averred that laws may be diverse in different countries but when a conflicting situation arises, it needs to be resolved & knowledge of comparative law plays a crucial role in such a scenario. He also stated that judges in India are very liberal in relying upon the precedence of other countries. 
Ms. Geeta Luthra, Senior Advocate, Supreme Court of India stated that India often looks at judicial precedence from Australia, UK & the US and how that has deeply enriched the nation. She added that both India and Australia have held very dearly to the principle of democracy. She also averred that decentralization creates stronger democracy & how in India there are diversities across states. Further to ensure richness of culture it is necessary to have some element of decentralization. Ms. Luthra shared that one has seen the evolution of law with numerous judgements over the years & how there may be many judgments that students must have read and appreciated. She asked students to use the precedence to their advantage & strengthen the democracy for comparative analysis of various constitutions. She said that students need to be vigilant & protect the rights of the future generation of the country.   
More than 12 foreign universities participated in the conference along with national law universities and experts from Asia, Australia, Europe and North America including Prof. Melissa de Zwart, Dean of Law and Head of School, Adelaide Law School, University of Adelaide, Australia & President of the Council of Australian Law Deans; Prof. Michael Peil, Associate Professor of Law and Vice Dean, JSW School of Law, Bhutan; Prof. Christopher Thornhill, Professor of Law, The University of Manchester, UK; Prof. Paul Babie, Professor of Property Law, Adelaide Law School, The University of Adelaide, Adelaide, Australia and Dr. Lorne Neudorf, Associate Professor, Adelaide Law School, University of Adelaide, Australia among others.  
A book on 'Law Governance and Society: A developing Socio-Legal Perspective in Digital Age' was also released on the occasion. Also present on the occasion were Prof. (Dr.) D.K. Bandyopadhyay, Chairman, Amity Law Schools; Prof. (Dr.) Aditya Tomer, HoI/Addl. Director, Amity Law School, Noida; Asso. Prof. Dr. Joshua N Aston, Associate Dean of Law, School of Business & Law, Edith Cowan University along with thousands of students, staff & faculty members.  /(February 21, 2021)