Global Hand Washing Day observed at DMCH
Dr Sarit Sharma, Professor of Community Medicine informed about seven steps of proper hand washing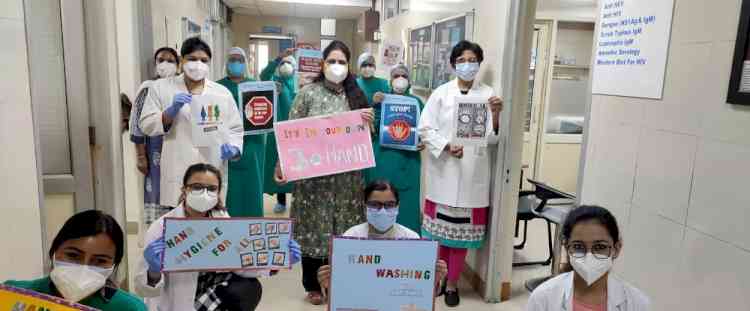 Ludhiana: 'Global Handwashing Day' was observed in DMCH today by Department of Microbiology in association with Hospital Infection Control Team.

Secretary Prem Kumar Gupta said that DMCH has always been taking regular initiatives of making people aware in adopting good prevention and precautionary measures in creating a healthy society. Principal Dr Sandeep Puri also expressed happiness in active role of Department of Microbiology in spreading awareness about proper hand washing techniques.   

The day is observed every year on 15th October. In present scenario of COVID pandemic, a lot is stress is emphasized on proper washing of hand

Dr Deepinder Chinna (Professor & Head of Mircobiology) expresses that  'Global Hand washing Day' is not observed just once in a year but routine sessions are regularly held in OPD blocks and different areas of the hospital, to sensitize people about benefits of proper hand washing which includes seven basic steps introduced by World Health Organization (WHO)
Dean Academic and In charge, Health Education Cell-Dr Rajoo Singh Chhina said that that proper hand washing is very important to make your body free from germs, bacteria and microbes. He attributed the role of Department of Microbiology in regularly conducting session to make people aware about 'proper handwashing techniques'  

Dr Sarit Sharma, Professor of Community Medicine informed about seven steps of proper hand washing. These are as follows:
1.    Step 1: Wet Hands. Wet your hands and apply enough liquid soap to create a good lather. ...
2.    Step 2: Rub Palms Together. ...
3.    Step 3: Rub the Back of Hands. ...
4.    Step 4: Interlink Your Fingers. ...
5.    Step 5: Cup Your Fingers. ...
6.    Step 6: Clean the Thumbs. ...
7.    Step 7: Rub Palms with Your Fingers.