GJIMT celebrates 31st national road safety week
RTO Mohali Sukhwinder Kumar motives students to obey traffic rules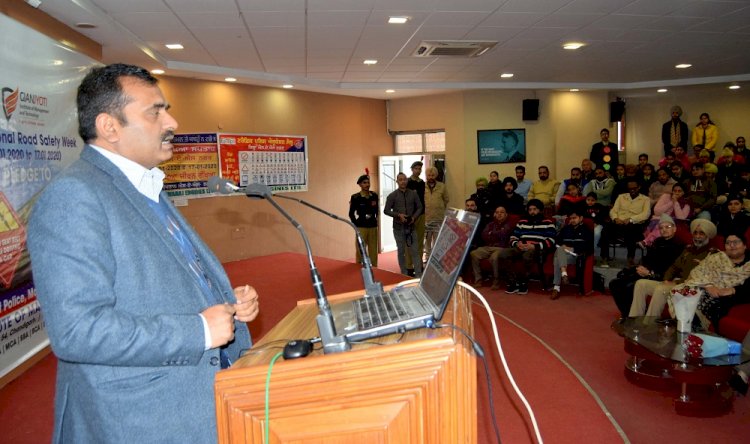 Mohali: Gian Jyoti Institute of Management & Technology, Phase -2, Mohali celebrated 31st National Road Safety Week at its campus Phase-2, Mohali. Sukhwinder Kumar, RTO, District Mohali was the Chief Guest.  While addressing to the students, staff and drivers of the area, he said we should "Pledge" today to wear helmet, should not drive two wheeler with more than 2 persons on it. While driving cars he emphasized that students should tell their parents to wear seat belt before they start the cars. He further added while driving never talk on phone; do not drive when you are drunk.
 
Later, students showcased their artistic skills at a poster making competitions on road safety rules. The Posters highlighted the observance of traffic rules. These creative visuals helped to spread awareness among the students. On this occasion students also demonstrated a short one act play to spread the message of road safety rules and the importance of human life. 
 
Sukhwinder Kumar, RTO, District Mohali during his address mentioned that in road accidents good number of human lives are lost in the age group of 18 to 40 years, which is a very valuable asset of the nation and can be saved in case we observe the safety measures and make it a habit in our life to observe the traffic rules. These human lives will be of great asset for a Nation.
 
J.S. Bedi, Chairman, Gian Jyoti Group while speaking on the occasion requested the students to convey to their  loved ones that we should avoid violating the traffic rules .He further added that  it is our moral duty to ensure safety on roads . He further emphasized on the importance of educating young minds regarding the loss which we have while violating the traffic rules. He said that such workshops would help students    to be responsible citizens.