GH10 and IH interacted with students
Around 100 number of Student participated.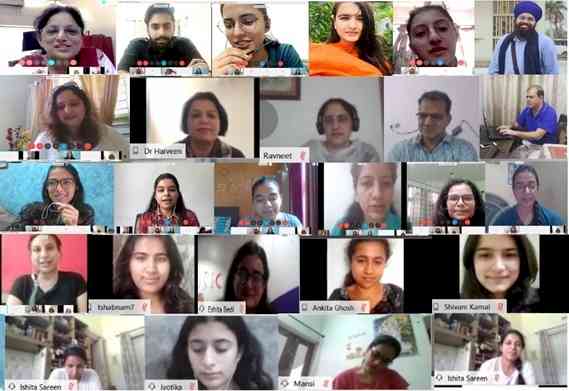 Chandigarh: Panjab University  Neerja Bhanot Hall, Girls Hostel number 10 and International Hostel organised an interactive session today on the topic "Student Reflection: My life during Covid-19". Wardens, Dr.Archana Chauhan ,Girls Hostel 10, Dr.Harveen Kaur International Hostel , Dr.Ravneet Kaur (GH3),Dr. Sanjeev Gautam Boys Hostel 3, Dr.Varinder Negi .Boys Hostel 2 coordinated the session.
The session started with the address by the Dean Student Welfare (Women) Prof. Sukhbir Kaur. She assured the students that the Panjab University authorities are well aware of the difficulties faced by the students and will take the decision keeping in view the safety and well-being of the students.
During this session, Students representatives such as Manpreet Mahal (Council secretary-2019-20), Paramveer, Kanurpiya, Amandeep Kaur and Diskha Bhanot along with others interacted with the residents of the hostels. The representatives thanked the authorities for starting the webinar and interactive session series as they feel connected with the University. They also expressed their satisfaction on the measures taken by the PU authorities towards the students during this pandemic.
 Following this, students shared their experiences as well their perspective during the lockdown in wake of COVID pandemic. Different aspects of students' lives and how the lockdown and the COVID pandemic has affected their life was dealt upon by the students in this interactive session. The issues discussed by the students ranged from self-introspection during lockdown, spending quality time with parents, missing Panjab University campus life, to social issues like stress management during Covid, emotional turmoil etc. Students shared that they took full advantage of the lockdown to pursue their hobbies like cooking, painting, embroidery, story writing etc apart from studying their subjects. They also expressed their happiness that the pandemic allowed them to spend quality time with their families which otherwise, they could not have imagined.  
Around 100 number of Student participated.