Get ready for district level MSME conclave in Ludhiana from Mar 14-16
DC holds meeting for smooth and systematic organising of this conclave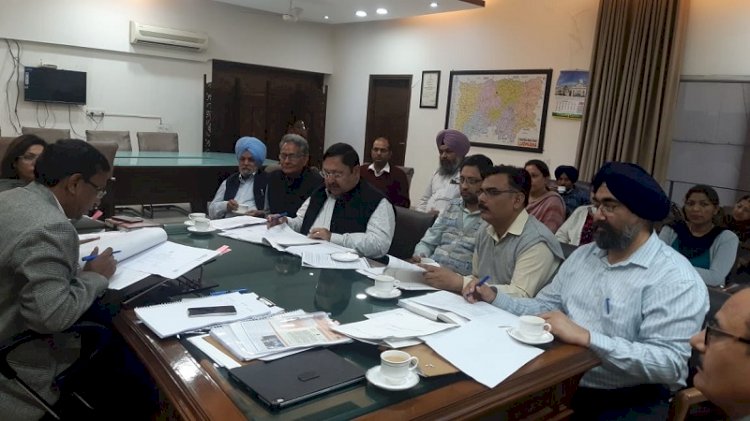 Ludhiana: A three-day district level Micro, Small and Medium Enterprise (MSME) conclave titled District Udyam Samagam (DUS) is being organised by Punjab Government in association with Ministry of MSME–Government Of India from March 14-16 March, 2020 at Punjab Trade Centre, Industrial Estate, Ludhiana.
For the smooth and systematic organising of this conclave, a meeting in this regard was chaired by Deputy Commissioner, Ludhiana, Mr Pradeep Kumar Agrawal at his office. This meeting was also attended by Additional Deputy Commissioner (Jagraon)-cum-CEO District Bureau of Employment and Enterprises (DBEE) Ludhiana Mrs Neeru Katyal Gupta, MC Joint Commissioner Mr Kulpreet Singh, GM DIC Mr Mahesh Khanna, Civil Surgeon Dr Rajesh Kumar Bagga, besides several others.
Mr Pradeep Kumar Agrawal informed that this district level Udyam Samagam will be a confluence of various activities like technical sessions from experts through dissemination of hand holding support being provided by state as well the Union governments through promotional schemes for MSMEs, big industrial hubs are being invited to participate in vendor development programme, B2B & B2C components & exhibition, where all will get a common platform for exchanging ideas related to sustainability of business, addressing challenges being faced by MSMEs, policies, practices to supply of inputs, production, processing, transporting, and marketing of Products and employment generation through Micro & Small Enterprises. 
The Deputy Commissioner said that a trade fair/exhibition is also being organised to exhibit the latest techniques and tools from the field of Micro Enterprises/Self Help Groups/Agencies &Institutes  supportive for Enterprises etc. 
A screening committee has been constituted under the Chairmanship of ADC comprising GM DIC, Ludhiana, Director MSME-DI, Ludhiana and two members from office bearers of industrial associations. This committee will finalise and allot the stalls free of cost to Micro and Self help groups which are 70 in number.
For technical sessions 25 segments has been identified which include Financial assistance schemes, promotional schemes of DC,MSME, financial assistance schemes, benefits and implementation of information technology to boost growth for MSMEs, benefit for MSE by outsourcing of Chief Financial Officer as big units grow and follow, research & incubation centre for food items at PAU, Intellectuals Property Rights, B.I.S. certification & Schemes, Industrial Business Dev Policy 2017, Promotional Schemes for agro/food industries, promotional Schemes, incubation centre and facilitations by CTR for engineering industry, schemes for food industries by Government of India, promotional schemes for exports, soft scheme for Micro Industries, grievances regarding cancellation of plots, delayed payment under MSME Dev. act, GeM portal, zero defect zero effect, promotional schemes, promotional schemes for handlooms weavers, GST, welfare schemes for workers, technical courses regarding music industry.