Garima Goel's 'Bloom' collection steals show at Opulence India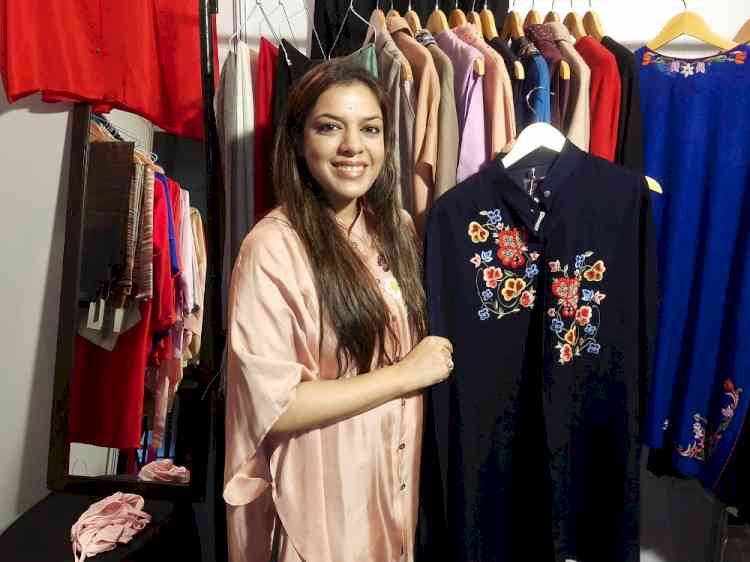 Chandigarh, October 17, 2021: Amiraga, best known for its vibrancy, elegance and charm, the brainchild of founder Garima Goel, A NIFT Delhi graduate, stole the show at the Opulence India, a two-day Life Style Exhibition which concluded at Hotel JW Marriott here today. Visitors thronged the Amiraga stall in huge numbers on both the days.
 
Garima Goel of Amiraga brand showcased BLOOM, her Amiraga-Fall Winter 2021 collection. She said, "The 'Bloom' collection is inspired by the beauty of nature, hope, and a new world. Epitomising western oomph and elegance, at the same time appreciating Indian craft, it juxtaposes with the beauty of nature's most beautiful creation- flowers." 
The collection comprises of pure silk and pure pashmina cashmere tops and capes. It is chic, feminine and dynamic. Using colors and patterns inspired by flora in evocative tones like pretty pink, charming peach, fiery red, teal blue, subtle beige and elegant grey. The collection comes alive with stunning textures, vibrant colors and beautiful finishing, all absolutely handmade. "All the pieces are very versatile and take you from day to night. Soft, lightweight and dreamy all products are handmade with highest quality fabrics and materials. The products are sustainable and eco-friendly," she added.
Garima discovered her flare for art and fashion while growing up which helped her forge her path to Amiraga. To her, clothing and fashion are forms of self-expression and her use of bold colors and patterns take inspiration from human psychology, stories of art and travel find their way into her collections.
Amiraga celebrates the stylish and independent woman who appreciates superior quality aesthetics, one of a kind artistic clothing and sustainable values. "Our highest quality pure Merino wool and Mulberry silk products are handmade and unique wearable pieces of art which are versatile and eco friendly. The Pashmina Cashmere products are handcrafted from the fine Cashmere Wool of Kashmiri goats and loomed by Kashmiri artisans. We seek to create designs that give  warmth, comfort as well as  confidence and a sense of luxury to the wearer," said the designer. 
Yogesh Chaudhary and Pooja Chaudhary, Director, Royal Day Events said, "The exhibition was aimed at festive season, Karvachouth and Diwali winterwear, where 70 designers gathered under one roof to showcase their festive editions.