Future Fashion skills discussed during national seminar at Amity University  
The seminar saw deliberations on the impact of Covid on Fashion Industry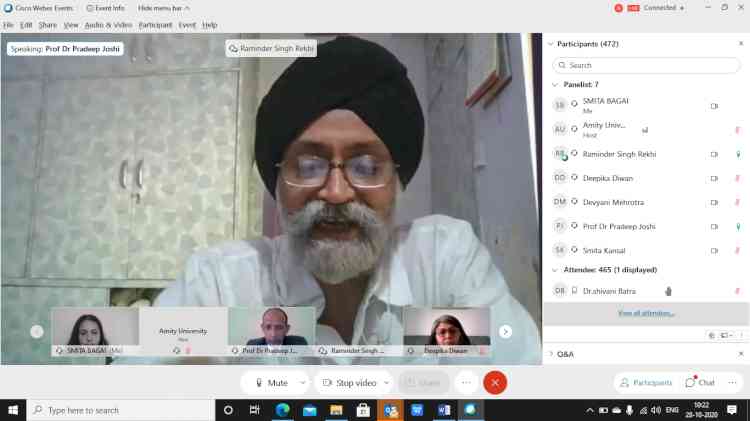 A National Seminar on "Industry Expectations from young Fashion Professionals" was organized by Amity School of Fashion Technology under Amity Directorate of Applied Arts/Fine Arts/Performing Arts/ Visual Arts. Experts from across the industry shared their insights on what the future holds for upcoming fashion professionals and how they could prepare and establish themselves.   
 
Initiating the discussions, Mr. R S Rekhi (National Resource Person, National Rural Livelihood Mission& Management consultant) shared his ideas about the initiatives taken by the Government to promote Indian textiles, crafts & handicrafts. Being skilled in Marketing Management, Business Planning, Operations Management, Analytical Skills and Retail, he addressed the students about the career opportunities for Fashion graduates in this area after they graduate.    
 
Ms Deepika, Managing Director at Carrots Pvt Ltd, Hong Kong shared her experiences of work at Sainsbury's, Marks & Spencer in Bangladesh as Country Manager and discussed her efforts in tripling its business there in less than 5 years. She also spoke on her understanding of the growing need to manage lead times, as well as the ongoing pressure on price. She highlighted the significance of Sustainability in fashion & textile Industry.  
 
Fashion Designer Ms Devyani Mehrotra elaborated on her work as a designer and mentioned that she seeks inspiration from various cultures and styles around the world. She showed her designs and shared her portfolio with students, elaborating upon the various components of a good Portfolio. She also provided guidelines on developing a good, communicative, and effective Portfolio which should focus on distinctive expression, should have innovative designs, an amalgamation of a myriad of prints and textures.   
 
Ms Smita Kansal, Senior Director (Operations) at Techno Design/ PDS Multinational Ltd (India, Bangladesh, Pakistan, Sri Lanka, China) gave an insight to students about how to provide strategic leadership, sourcing and management solution to consistently exceed customers expectation in fashion & textile Industry. She also discussed about the Technical skills which are expected from any fashion and textile graduate. She also emphasized upon the relevance of good subject knowledge and industry internships.   
 
Mr. Munish Tyagi, Senior Fashion & Textiles Consultant called upon students to realign their education, give focus and specialise in the digital systems. He stated that online retail is growing exponentially and with festivals around the corner, sales have been increasing for the major players. He further shared that emerging competition is coming from newer countries having cheap labour, giving entry into the market at no extra cost. He advised students to spread their horizon and think beyond India to look at multinational retailers operating from the adjoining countries or the new emerging textile hubs. He averred that the industry is looking for professionals who are willing to unlearn and relearn to align themselves with the company's processes. He further suggested that multi-tasking skills will be required to succeed and how this experience will show them direction in the future. Mr. Tyagi stated that the industry will see a revival, but it will be a slow process and how this disruption has affected the supply chain across the world.   
 
Mr Hemant, Fashion Designer, Hemant & Nandita talked about his 15-year old label and their presence in the international market. He averred that nothing is impossible to achieve if one has focus. He shared that the pandemic lockdown has given people the time to introspect if they are moving on the right path to achieve their goals and how the labels closing now are giving an opportunity to the young, upcoming designers to establish themselves. He stressed on creating a USP to make a mark in the market and that is needed by people affected by the corona pandemic. Mr. Hemant called for identifying on what contribution students would be adding to the market and how the huge scope of the market will give students huge opportunities. He added that there is a shift in the market with sales happening online from a physical store.  He suggested students to be positive and keep working towards their goals & dreams.   
 
The seminar saw deliberations on the impact of COVID on Fashion Industry & Road Ahead with the industry experts answering various queries shared by the students. Dr. Pradeep Joshi, Director General (Amity Directorate of Applied Arts/ Fine Arts / Performing Arts/ Visual Arts) stated that the expert views shared by the guests would help the students ascertain the right path for their future.