Furever Friends celebrates Aabhar Diwas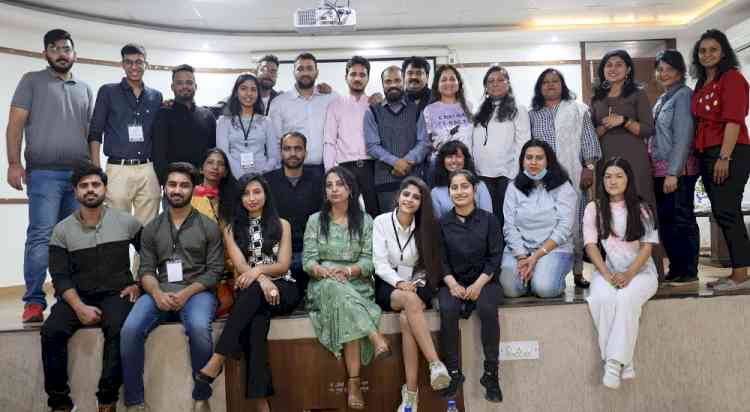 Chandigarh: Tricity's animal rescue organization 'Furever Friends' celebrated 'Aabhar Diwas' to acknowledge and honour the people who have adopted dogs, cats, rabbits and other rescued animals. The event also honoured the people who help in fostering rescued motherless or injured puppies, dogs, cats, rabbits and other animals from the NGO. The event was held at Gandhi Smarak Bhawan, Sector 16, Chandigarh.
The chief guest was Rajesh Rai, Deputy Commissioner of Customs and Service Tax Appellate. The guest of honour was DSP Ram Gopal, Chandigarh Police. Anjna Rajal, Mrs India 2020, motivational speaker and Dr Anish Garg, Yoga Guru, National poet and show presenter at Doordarshan, BBC Toronto were the special guests.
The event was headed by Gagan Bains with the support of Parneet Kaur. Both of them have run this 'North India's most effective adoption program'. More than 300 animals have successfully been adopted in genuine families with verification and registration. Proper record is maintained of all the adopted animals and regular house checks are performed to ensure the animal's welfare.
Vikas Luthra, Founder, Furever Friends Foundation said, "I feel blessed to see a wide number of people coming forward to help animals and support our organization. When we rescue animals the most challenging task for us is where to keep the animal till they are adopted. And these kind people really turn up like a superhero to foster them."
Vikas Luthra is nicknamed as 'The Mowgli of Tricity' for his extreme compassion for animals. Gagan Bains, Rescuer and Adoption coordinator, Furever Friends Foundation said "We are extremely grateful for all our fosterers and adopters but we would appreciate it if more people came forward to volunteer. Fostering is the best way to help us as it gives us time to rescue more animals in need."
A gathering of 150 animal lovers was witnessed. Around 80 people were felicitated for adopting or fostering needy animals. Few NGO's were also felicitated including Drishti from Sarwani, Jagriti from The Rainbow Cause, Dr Prabhjot and whole team of Mehsaan, Sanjeev from Udham, Manoj from Rakshak Foundation and the team of Furever Youth which is a branch of Furever Friends.
The volunteers of Furever Friends including Ankit, Sparsh, Hardeep, Mohit, Meenu, Nitu, Bimla, Mak, Roopika and Seema Yadav, co-founder of Joy For Animals (JFA) were honoured along with many other animal lovers of tricity for their selfless service towards suffering  animals. The event was hosted by Khushboo Yadav and Deepanshu.
The digital partner was Socialenza and the media partner was Glimpse magazine.