FROM NOOB TO PRO: SPOKEN ENGLISH
Read this article to gain complete info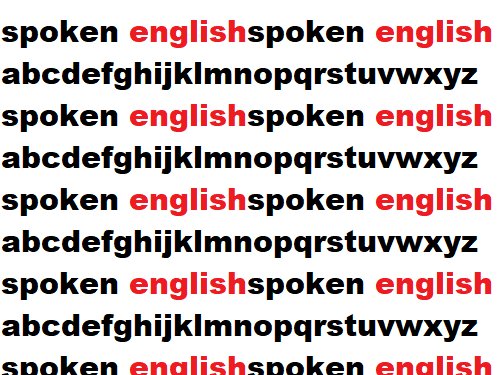 A symbolic image.
In today's fast-moving world, communicating in English has become imperative. English is a global language used for all kinds of communication, and not being able to converse and understand it creates hurdles in both personal and professional life. People often lose confidence when they are unable to speak correctly. The following tips and tricks are designed for English speaking for 10th class, assuming students have come across basic syllables and sentences.
•    READ, READ, READ!
Reading is the first step in learning. To learn any language, it's essential to understand its structure and words. Read aloud newspapers, magazines, comics, scripts, etc. The people who excel are the ones who make it a habit to read, try reading full sentences.
•    DON'T STRESS ABOUT GRAMMAR
It might sound absurd because grammar is essential for exams, but the more you try to focus on grammar,  you're likely to get confused. Even the best speakers make grammatical errors, but they speak without hesitation, and so should all of us. Start at the primary level and grow thereon.
•    LISTEN FIRST
The language is everywhere, and everyone speaks it. Keep your ears open, listening to new words, phrases, and sentences you can build up a vocabulary. Treat yourself as an infant when it comes to learning a new language; as the babies listen and respond, they develop a sense of the verbatim over time. Being a good listener takes you to great places.
•    ENTERTAIN YOURSELF
The mind is an innovative palace; it learns faster when things are exciting and vocal. Watch English movies, listen to songs, and radio channels to stay in touch with the language. It's easier to understand and get a sense of the style when you see and listen to it in natural forms of communication.
•    BENEFIT FROM THE INTERNET
There are several apps and websites available today for language learning. From free of cost to paid ones, they offer a variety of course structures, so it becomes easy for a person to learn and speak the language. They have the right vocabulary, phrases, and vocal training.
•    PRACTICE MAKES ANYBODY PERFECT
There are no shortcuts in life; neither is there to learn English. Read, Listen, Speak, Write, Repeat. Learning a new language takes time and effort, and it is imperative to put them if you wish to be fluent in the English language.
•    TALK TO YOURSELF
English speaking for 10th class means you are going to converse a lot. Make the mirror your best friend, and have a conversation with yourself. Build scenarios, ask possible questions, debate, and there will be an improvement in confidence and fluency of your speech.
•    TRANSLATION MAKES A MESS
It is a common practice among beginners to translate words from their native language to English, now this might seem logical, but it is wrong. This method is not only time consuming and exhausting but also a wrong way to learn. Different languages have different sentence structures, which can usually lead to embarrassing outcomes. Don't waste time in translation, rather speak whatever hits your mind first this way, you improve your spontaneity and speaking skills.
•    USE A DICTIONARY 
Learn a new word every day. In addition to this, there are online dictionaries that come with audio examples that can help in adapting pronunciations, and one can see meanings of millions of words instantly. 
•    MAKE MISTAKES AND LEARN FROM THEM
Never be afraid to make mistakes; A man only learns from the error of his ways. Believe in yourself and do not hesitate to speak. In the initial days, it is common to make a lot of blunders. In the same way, it is crucial not to lose faith. A majority of speakers stop speaking and learning to avoid the embarrassment of mistakes; this, however, is no option. People only learn from practice, and this further strengthens their English skills.
Spoken English will become extremely easy once these tips are followed. english speaking for 10th class can also be improved from a couple of these learnings - Grammar, Tenses, Articles, Newspapers, Writings, Online games, etc.
One can also follow class 8-10 books for learning the language from its basics.
Read Also: Public Speaking: A quality essential for every field