Free visit to Ayodhya temple, promises Amit Shah in Telangana
Union Home Minister Amit Shah on Saturday promised free visit to Ram temple in Ayodhya if BJP is voted to power in Telangana.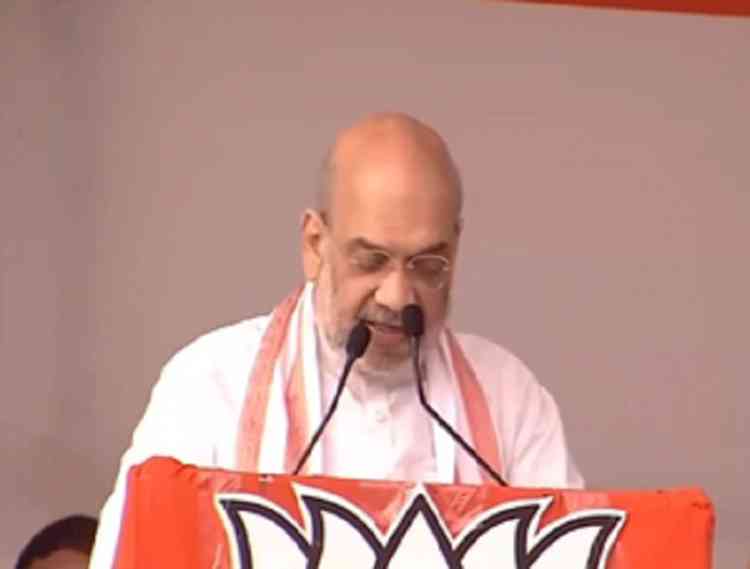 Source: IANS


Hyderabad, Nov 18 (IANS) Union Home Minister Amit Shah on Saturday promised free visit to Ram temple in Ayodhya if BJP is voted to power in Telangana.
Addressing an election rally in Gadwal, he urged people to bring BJP to power, promising that it will send them to Ayodhya for darshan free of cost.
Alleging that the Congress delayed construction of Ram temple for 70 years, he said Prime Minister Narendra Modi not only laid the foundation stone but he will also be inaugurating it on January 22.
He reiterated that if voted to power, the BJP will make a leader from Backward Classes (BC) the chief minister. He said that though BCs are 52 per cent of the state's population and there are 135 BC communities, there was no BC Chief Minister.
Alleging that both BRS and Congress have done injustice to BCs in giving tickets, he claimed that BJP has given the highest number of tickets to BCs.
Amit Shah said, "In the form of Narendra Modi, BJP, gave India the first BC Prime Minister. There are 27 ministers from BCs in the Modi government, he said.
Stating that both BRS and Congress are anti-BCs, he asserted that only BJP can ensure welfare of BCs.
The Union Home Minister said the coming election in Telangana will decide Telangana's future for five years.
"People should decide whether they want double-engine development or KCR's false promises," he said alleging that KCR has set a world record in making false promises.
"I want to tell people of Telangana, especially youth, that the time has come to give VRS to BRS," he said.
The BJP leader alleged that the BRS government of Telangana is the most corrupt in the country. He dubbed BRS as "Bhrashtachar Rishwat Samithi".
He alleged that there have been many scams during BRS rule like Mission Bhagirath scam, Miyapur land scam of Rs.4,000 crore, Outer Ring Road scam of Rs. 7,300 crore, Kaleshwaram project scam of Rs 40,000 crore, liquor scam, poultry feed scam and Mission Kakatiya scam Rs.22,000 crore.
He recalled KCR's promise to make Dalit the chief minister of Telangana. "KCR has become the chief minister twice and now he wants to make KTR the chief minister."
Stating Congress allocated Rs 2 lakh for united Andhra Pradesh from 2004 to 2014, he claimed that the Modi government gave Rs 2.50 lakh crore to Telangana alone.
He said that under KCR's government, youth have suffered the most. There were question paper leaks for 16 times in six categories of exams of the Telangana Public Service Commission (TSPSC). Corruption in recruitment led to suicides of youth.
"We have decided that if we are elected to power, 2.5 lakh youth will be provided government jobs in five years in a transparent manner," he said.
Stating that Sardar Vallabhbhai Patel liberated Telangana from Nizam's rule, he said KCR was "ashamed" of celebrating Hyderabad Liberation Day because of Owaisi.
Shah promised that if BJP comes to power, Hyderabad Liberation Day will be celebrated as an official festival.
Slamming BRS, MIM and Congress over "pursuing family politics", he termed them as 2G, 3G and 4G parties.
--IANS
ms/svn