Fourth 'shramik express' with 1190 migrants onboard chugs for Gonda from Ferozepur, DC flags off the train
State government bears expenditure worth Rs 6.12 lakh for free travel of migrants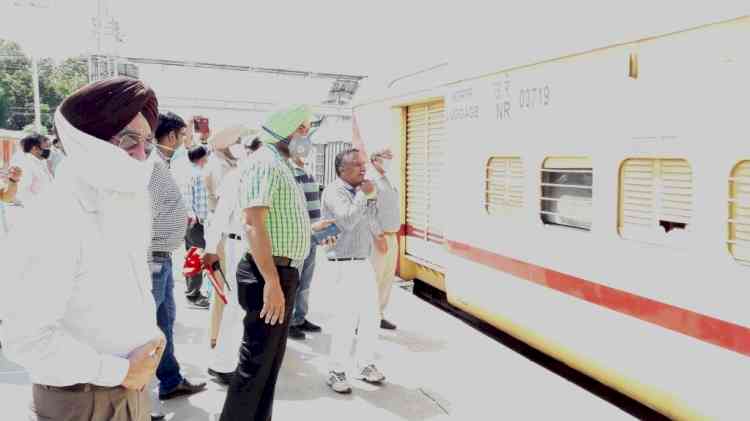 Ferozepur: Owing to the strenuous efforts of the state government led by the Punjab Chief Minister Captain Amarinder Singh the fourth 'Shramik Express' train with 1190 migrants onboard chugged off from Ferozepur Cantt railway station to Gonda district of Utter Pradesh. Deputy Commissioner Ferozepur Mr. Kulwant Singh flagged off the fourth train on Saturday afternoon.
 
 
The Deputy Commissioner said that Punjab government was bearing the entire expenses of the train and has so far spent Rs. 24.48 lakh on running of these four trains from the Ferozepur district which include Rs 6.12 lakh for free travel of all migrants in train to Kanpur (UP), similar amounts for Amethi, Gaurakhpur and two trains for Gonda district. He added that apart from this state government was also providing refreshment, water bottles and other basic needs for the migrants who were moving to their native state in the trains. 
 
Pertinently, the Punjab Government has sanctioned a whopping amount in the first phase, towards its share of the migrants' cost of transportation by the Indian Railways. The Ferozepur administration has received the amount from the state government which was being paid to the Railways directly for providing tickets to the registered passengers thereby enabling them to go to their native states free of cost. 
 
Likewise, a team of the Health department was screening every migrant who was coming to the station for boarding the train. The district administration had made adequate arrangements for maintaining social distancing amongst the passengers before boarding the train. Besides other facilities, at the entrance of the railway station all the migrant laborers were being provided with the food packets, water bottles, face masks and many more facilities.