Four tested corona positive in Kangra district: DC       
All persons have been shifted to DCCC Baijnath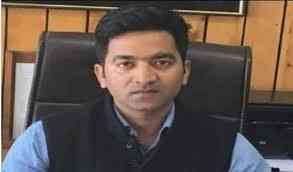 Rakesh Prajapati,Deputy Commissioner, Kangra.
Dharamshala: Four male were tested Corona virus positive in Kangra district today. Two of them returned to the district last week from Madhya Pradesh and Delhi while one has a travel history up to Pathankot. The last male, a youth of Golwan village under Fatehpur Tahsil was put under institutional quarantine for violating containment zone orders on May 25. 
Deputy Commissioner Rakesh Prajapati told here at Dharamshala on Wednesday that this youth was using his car to ferry people from Delhi, Chandigarh and other places. Since he was found jumping containment zone, an FIR had been registered against him on May 25.
A male of Badhal village under Fatehpur, who returned from Madhya Pradesh on May 27, was tested Covid-19 positive. Presently, he is at institutional quarantine center at Sansarpur Terrace. He was found asymptomatic when screened on his arrival. Other male, who was put under home quarantine on May 28 at Gangath after his return from Pathakot, was tested positive.  Other youth, who travelled by flight from Delhi on May 29 and was sent to institutional quarantine at Fatehpur, was also found positive. 
All persons have been shifted to DCCC Baijnath.