Fortis Hospital, Rajajinagar conducts Covid-19 screening for BBMP workers
The effort would help identify the initial signs of Covid-19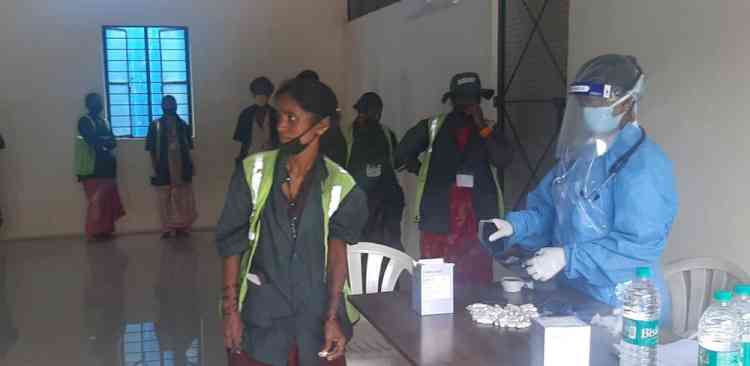 Medical professionals from Fortis Hospital Rajajinagar conducting COVID-19 screening for BBMP workers.
Bangalore: Fortis Hospital, Rajajinagar has taken up a month-long initiative to conduct COVID-19  screening for BBMP workers. The screening comprises a temperature check, BP, GRBS, and pulse by the paramedical staff. The effort would help identify the initial signs of COVID-19.
Additionally, they would also be educated on the importance of adopting hygiene measures, such as washing and sanitizing hands, avoiding touching of the face, and wearing a mask when on duty in order to avoid spreading of the virus.  
The screening will be conducted at 7 check post areas, namely: Nagpura Ward No 67 on 8th and 9th, Vrushabhavathi Ward No 102 on 11th and 12th, Mahalakshmipuram ward No – 68 on 13th and 14th, Shankaramatta Ward No -75 on 15th and 16th, Nandhini layout ward No – 43 on 18th and 19th, Marappanapalya ward No -44 on 20th and 21st and Shakthi Ganapathi,  Ward NO -74 on 22th and 23th.