Food Supply Department suspends wheat supply of two depots over anomalies in distribution
DFSC holds meeting with wheat flour mill association over wheat quality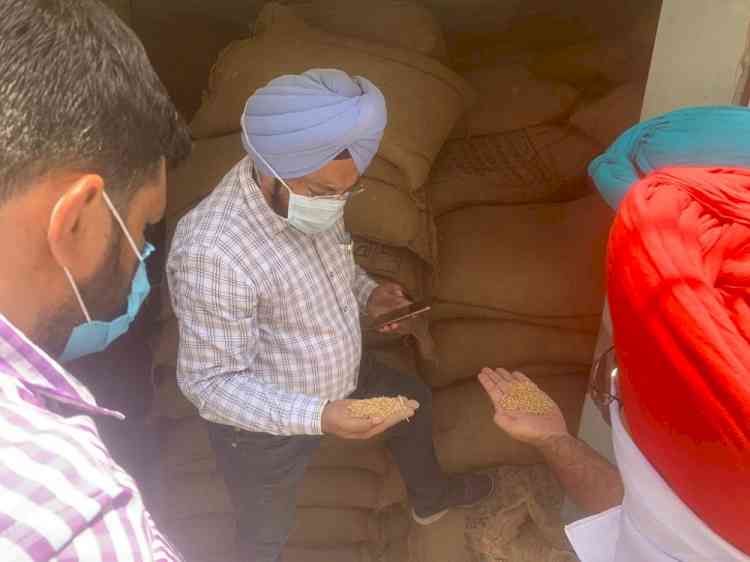 Ludhiana: Continuing its commitment to ensure transparency in distribution of wheat to needy people under the Pradhan Mantri Garib Kalyan Ann Yojna (PMGKAY), food supply department on Friday suspended wheat supply of the two ration depots after various anomalies found during surprise checking by the teams. 
Divulging the details, the District Food and Supply Controller Sukhwinder Singh Gill said that several teams of the department were constituted to inspect the distribution drive to ensure proper transparency in the process in the various localities. He said during checking by teams, irregularities were detected in weight and others following which supply was immediately suspended. 
Meanwhile, DFSC also held meeting with the representatives of Wheat Flour Mill Association and got the feedback about the quality of wheat they were receiving from people. They told quality of wheat is satisfactory. 
He further added that the Punjab government led by Chief Minister Captain Amarinder Singh, department has so far supplied to 1.25 lakh families out of total 4.5 lakh families.  
Gill also said that in wake of outbreak of Covid 19 pandemic, the state government has started distribution of wheat to eligible beneficiaries under Pradhan Mantri Garib Kalyan Ann Yojna. 
Singh said that the government has decided to give 5 kilogram of wheat per beneficiary per month for two months to a smart card holder family in one go. 
He said that the Punjab Food Civil and Supplies Minister Bharat Bhushan Ashu was committed to ensure that no person, especially any poor family, suffers on account of non-availability of food grains due to curbs. 
Singh said that no stone would be left unturned for extending a helping hand to people in this hour of severe crisis.
He said that EPoS machines are being used for distribution of the wheat ensuring proper transparency.