FLO presents to certificates to 150 women from Dhoolpet trained in various vocational courses
MLA lauds efforts of FLO for coming forward to help these lower middle class families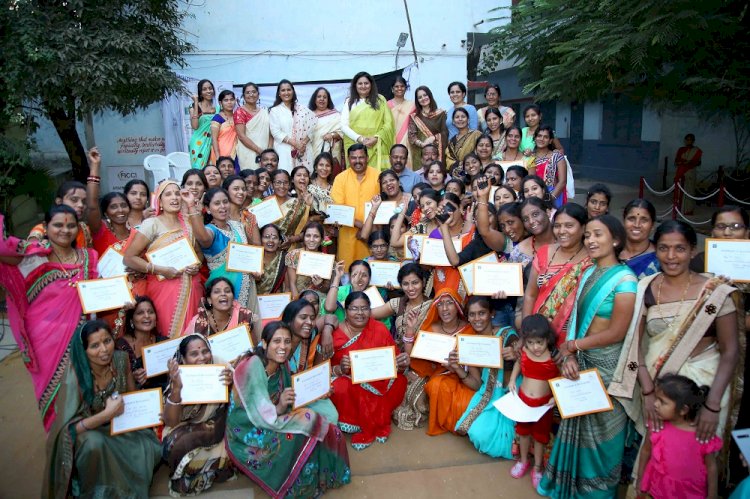 Ms Sona Chatwani, Chairperson FLO Raja Singh, MLA seen with women who got certificates.
Hyderabad:  150 Women whose families once involved in Gudumba and Toddy in Dhoolpet trained in several vocational courses given away certificates.
 
In a function held at Oxford High School, Jumerat Bazar on Wednesday evening Shri Raja Singh Lodhi, the local MLA , Ficci Flo chairperson Sona Chatwani, past chair ajita Reddy prashanti Shekhar Initative head presented the certificates to the women on successful completion of various courses
 
Service to humanity is service to god. Though these women are trained well in various specialisations and products, they must be also trained well to market their products and services, said Shri Raja Singh.
 
The MLA lauded the efforts of FLO for coming forward to help these lower middle class families.
 
The training was provided by FICCI Ladies Organisation (FLO) as part of skilling initiative. The initiative is aimed at empowering women financially, shared Sona Chatwani, Chairperson of FLO.
 
These courses include: Cooking, Beautician, Jute Bag Making, Computers and Mehndi Designing
 
These courses vary durations  from 4 days to 45 days. All the women both married and Un married in the age group of 15 to 50 years were from below middle class backgrounds trained free of cost by FICCI Ladies Organisation(FLO).
 
Few FLO members who are experts in respective domains trained. In some cases, the trainers were outsourced. Few talented local women used fir training in some domains
 
The Cooking Course was for 4 days, Beautician for 16days, Jute Making for 8 days, Computers 45 days and Mehndi Design fir 30 days. Leena Doshi,  FLO member has taught cooking.
 
The training courses were conducted at different places.
 
Two girls already jobs as beautician trained by Neeru Mohan a FLO member . FLO also helped 15 women get Rs 25000/- each bank loans from OBC( Oriental Bank of Commerce) to carry out their businesses.
 
I have learnt Data Entry, MS Office few other basics in computers shared Neelima. The computer course training was provided at Oxford High School. They gained lot of practical knowledge and wired in systems.
 
NIIT provides Syllabus and arranged books for the training in Computers.
 
In Beautician Course, the participants were trained in How to consult a Customer, Faciaks, Pedicure, Manicure, Eye Brows, Body Massage and Saree Draping shared professional beautician. They were trained at a beauty salon.
 
We have even taught them six varieties of Saree Draping—Bangla, Odia, Rajasthani, Marwadi, Telugu and South Indian, it was informed. They were given Product Knowledge of various beauty products they will deal in a beauty salon.