FLO Hyderabad launches Tirumani - Cheriyal Nakashi Chitrakala, social outreach program, to support 400 years old craft
Through Tirumani, FLO pledged branding, product development and market linkage support to the Cheriyal Artisans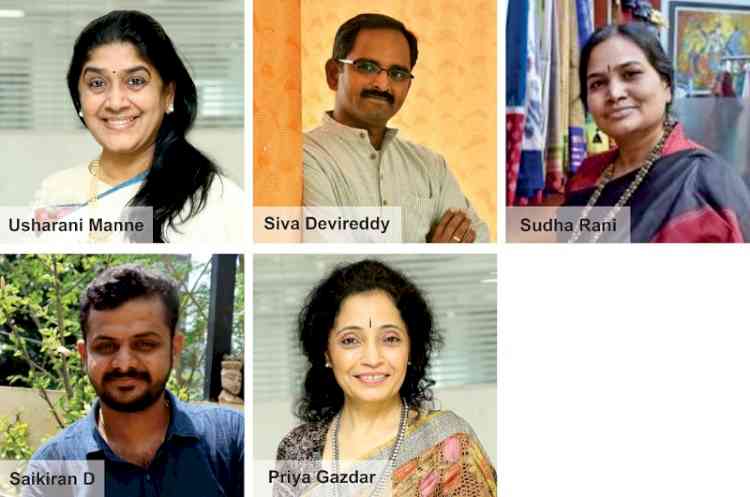 Usha Manne, Chairperson, FLO Hyd_ Siva Devireddy, CEO, GoCoop_ Sudha Rani, CEO, Abhihaara_ Saikiran, Master Craftsman in Cheriyal Art_ Priya Gazdar, Secretary, FLO Hyderabad at virtual launch of Tirumani.
Hyderabad: FLO Hyderabad Chapter announced a major social outreach initiative to promote the 400 years old Craft form of Cheriyal, which is unique to Telangana State. Today it is under the threat of fading out because of its declining popularity. The art form has only 16 practitioners across 7 families currently.  
 
Organising the artisans under a brand, creating marketing material, marketing linkages, raw material procurement at more affordable costs and product innovation are some of the ways in which FLO Hyderabad is helping the craftisans.
 
The brand 'Tirumani', named after the gum used to create Cheriyal art, and a catalog of products was launched at the virtual event which also saw a discussion on the Survival and Revival of Indian handicrafts. FLO Hyderabad was successful in placing the products on 'Weavesmart' an award winning eCommerce platform for weaves and crafts.
 
'Our vision', Usharani Manne, FLO Hyderabad Chairperson said, 'is to ensure that more traditional artisans come back to the fold, throughout sustained efforts to create better market linkages and assistance in product innovation.'
 
'Tirumani is our small offering to the artisan community of Cheriyal', Usharani declared while launching the logo. 
 
FLO member and coordinator for the project Monica Bhandula shared more details and their plan of action about Tirumani. 
 
'Our effort now, to create new market linkages for them in order to make Cheriyal a sustainable livelihood generator would be futile without professionalizing their approach to marketing. And branding is the first step in this direction', said Priya Gazdar.
 
Nishita Manne announced that Tirumani will be placed on Weavesmart, a crafts and artisans aggregating platform. She also explained how it works. 
 
Besides this, FLO has also adopted the surrounding villages of Cheriyal as part of Adopt a Village, a national initiative, said Usharani.
 
FLO, she adds, aims to facilitate growth and transformation in the lives of women in the villages. The objective is to empower women in rural India, thereby eradicating poverty and unemployment. That is why we are adopting a village in the rural sector, she said. 
 
In the conversation, 'The Handmade Life 2: Survival & Revival of Indian Handicrafts', domain experts shared their valuable perspectives and insights. 
 
Participating in the conversation, Siva Devireddy, CEO of GoCoop said, 'Crafts have utmost relevance now than ever before. Both Life and Livelihood are important. India is an Agrarian Economy.'
 
Craftspeople form the second largest employment sector in India, second only to agriculture. Handicrafts are rightly described as the craft of the people: they're said to be twenty-five million craftspeople in India today and the number varies from source to source, he said. 
 
Many Art and Craft forms cease to exist. They are vanishing. More than 60% of artists earn less than Rs 5000/- a month, which is far lower than minimum wages, he shared. Artists, Siva Devireddy said, need to live a dignified life. Indian Crafts have great potential. India's rich cultural diversity and heritage provide a unique and huge resource for developing craft products. The Indian Handicraft Industry is said to be a $100 billion industry worldwide. India's contribution in the world market is just 1.2%
 
Speaking about digital adoption he said digital has a profound effect on Artisans. COVID accelerated online adoption. More youngsters from generation next are showing interest to get into crafts sector because of the sector's quick adoption of digitization. 
 
Sharing about, GoCoop, Siva Devireddy said, GoCoop is India's first national award-winning marketplace which connects artisans, weaver co-operatives and clusters directly with consumers across the world. We enable sustainable livelihoods for artisans by ensuring fair prices for them, and authentic handlooms and crafts to customers', he said. 
 
Joining in the conversation, Sudha Rani M, CEO of Abhihaara Social Enterprise shared, that they link the cotton growers with the handloom weavers and the craft artisans, with a focus on building skills and capacities in women.
 
Sudha talked about Alambana App, launched by KT Rama Rao and developed in partnership with the State government, UNDP and Abhihaara to provide skills training, and create market linkages and new opportunities for weavers.
 
Representing Cheriyal Craft community, Sai Kiran, fourth-generation Cheriyal Master Craftsman shared their plight. He urged three things—Manpower, Marketing and Product Design support from Government and Social Enterprises and organizations like FLO. 
 
Giving her opening remarks Usharani Manne, Chairperson of FLO Hyderabad Chapter said the beauty of the Indian crafts is much deeper than aesthetics. It is its close connection with our hyper-local cultures. 
 
Setting the context for the day's conversation, FLO Honorary Secretary, Priya Gazdar, said, according to the Indira Gandhi National Centre for the Arts report on Cultural Mapping of India, 'due to rapid change in lifestyle, ageing, and negligence, the vast repertoire of knowledge and wisdom that sustained and nurtured the Indian handicraft community, is fast disappearing'.
 
She further added, the clarion call is for us to take a serious look at our crafts culture. With more than 3,000 craft forms in the country, the right support and a conducive business environment, can make the craft sector a billion-dollar marketplace across the globe, exemplifying all that is best about Made in India.
 
Speaking about Cheriyal artisans, Priya said, no concrete effort seems to have been made to organise them into a brand. The USP is already there. Their art is so unique. The IP is being created non-stop. They are even innovating in terms of product line and materials
 
The idea of 'Tirumani' is to create an instant visual and cerebral association in the consumers' minds. Therefore we made sure that the look is consistent with the traditional colours and motifs. All the marketing communication – offline or online – will carry a consistent brand look and story, aiding top of the mind recall for consumers.