First phase of distribution of sports kits under "Youth of Punjab" Mission starts in Ludhiana
Senior Advisor to CM Lt Gen TS Shergill distributes sports kits to 100 youth clubs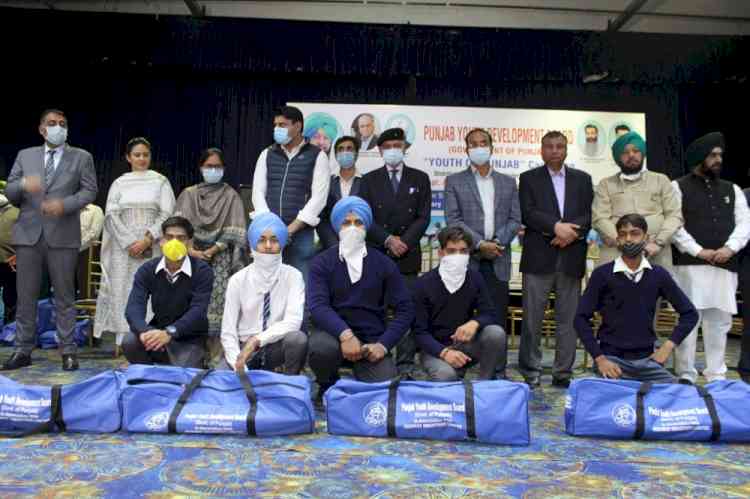 Ludhiana: In order to make the state sporting power house in the country by promoting sports in rural areas, the Senior Advisor to CM Lt Gen TS Shergill on Tuesday launched the first phase of distributing sports kits among 100 youth clubs under 'Youth of Punjab' Mission in Ludhiana.
The mission aimed to engaging the youths of the rural areas in the sports by channelizing the unbounded energy in the right direction.
Addressing the representatives of youth clubs in Guru Nanak Bhawan, the Senior Advisor to CM Lt Gen TS Shergill said that these kits would play a pivotal role in the promotion of sports and other social activities in the rural areas.
He added the state government led by Chief Minister Capt Amarinder Singh is already leaving no stone unturned to ensure that Punjab emerges as a front runner state in the arena of sports and distribution of the kits would prove catalyst in bringing revolution in the sports at the grassroots level.
Showering heaps of praise on the Punjab Youth Development Board (PYDB) Chairman Sukhwinder Singh Bindra, Senior Advisor said that the sports would keep the youth away from the drugs and they would be able to contribute for the society.
He said that sports kits would be provided to all 13000 registered youths' clubs of the state in the coming phases.
In today's function, sports kits were provided to 200 youth clubs, schools and colleges of district Ludhiana. Such functions would also be organised at Jalandhar on February 26, at Amritsar on March 3 and at Mohali on March 6, 2021.
Meanwhile, PYDB Chairman Sukhwinder Singh Bindra lauded the sponsors of the kits and said that they have laid the foundation of a great movement aimed at revival of the sports.
He said that similar functions would be held at Jalandhar and Amritsar districts in the coming days.
Earlier, Deputy Commissioner Varinder Kumar Sharma welcomed the Chief Guest and other dignitaries. He also explained the gathering about steps taken by PYDB.
The Chief Guest also honoured Anmol Munjal, Umesh Munjal, from Highway Industries, Onkar Singh Pahwa from Avon Cycles, Vijay Munjal and Gaurav Munjal from Hero Ecotech, Amrish Jain from Kangaroo Industry, Upkar Singh Ahuja from CICU and Gopi Kothari and Amit Kothari from Kay Jay Forgings.
Prominent among present occasion included PMIDB Chairman Amarjit Singh Tikka, PSIDC Chairman KK Bawa, Mayor Balkar Singh Sandhu, Councillors Mamta Ashu, Harkaran Singh Vaid, Rashi Aggarwal, Deputy Commissioner Varinder Kumar Sharma, ADC (D) Sandeep Kumar, OSD to Lt Gen Shergill Karanveer Singh, Satinder Singh Harry Ahluwalia, Nitin Tandon, Rohit Sharma, Nitin Arora, Dev Aggarwal, Mandeep Sahnewal, besides several others.