First edition of 3-day India Agri Progress Expo 2020 from Jan 23
About 200 exhibitors to showcase their products and services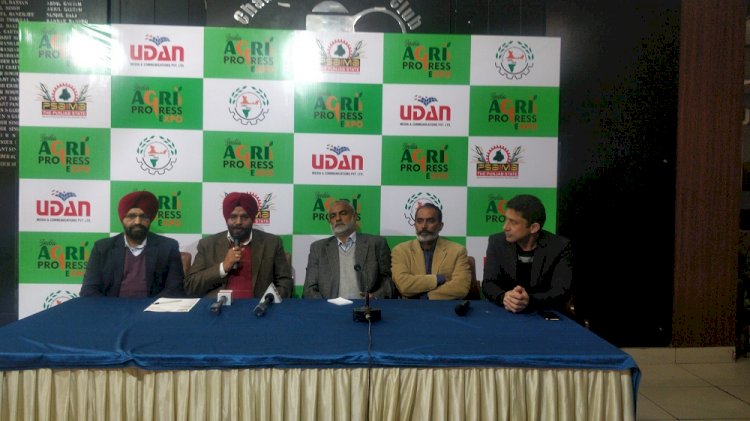 Chandigarh: The 1st Edition of India Agri Progress Expo, Chandigarh (Mohali) is all set to take the Agriculture, Dairy and Poultry world to the next level. Udan Media is coming up with India Agri Progress Expo in association with The Punjab State Agriculture Implement Manufacturer Association and is highly supported by Agricultural Machinery Manufacturers Association India. It is the only mega event which is going to organize in North India (Mohali) with the motive to bring latest trend as well as Technological refinements from India and other global players. 

"India Agri Progress Expo- 2020" has come to symbolize itself as one-stop platform where farmers can experience live display of the products, enabling them to make decisions which can go a long way in enhancing their farming capabilities.  The exhibition is organised in Chandigarh to give awareness and want to upgrade the famers of Haryana, Himachal and Punjab with the latest techniques of farming.  
"We are grateful to our Associates The Punjab State Agriculture Implement Manufacturer Association and Agricultural Machinery Manufacturers Association who have supported us in organising such a Grand Mega Event. Organising such events will usher a new era in Agriculture, Dairy and Poultry said spokesperson of the Expo", said the organisers at the press conference held at Press Club today. 
Present on the occasion included Sarabjit Singh Secretary Agricultural Machinery Manufacturers India, Baldev Singh Chairman Punjab State Agriculture Implementation and Manufacturing Association, Surendra Singh Bajwa Assistant Director Horticulture-cum-Nodal Officer Mushroom Punjab, Harmanjit Singh Randhawa Director Citrus Estate Hoshiarpur and GS Dhillon, MD Udan Media.
Some ministers from Punjab Haryana would grace expo on all three days. Key speakers of the opening day will include Chander Shekhar Khare Director Agriculture and Farmer Welfare Haryana, Kahan Singh Pannu Secretary Agriculture and Soil Conservation Punjab and Surjit Singh Dhiman MLA Amargarh Punjab.