First dose of Covid vaccine given to 89.47 percent people in district: DC Kangra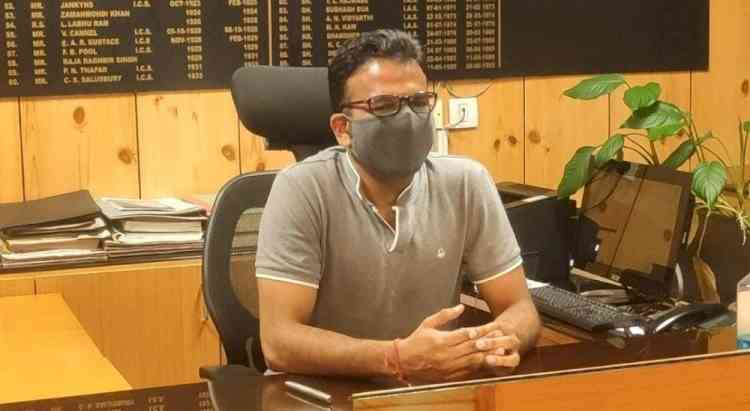 Kangra Deputy Commissioner Dr. Nipun Jindal.
Dharamsala, August 18, 2021: So far 89.47 percent of the people in district Kangra have been given the first dose of Covid vaccine. "So far 10,83,285 persons have been given the first dose of Covid vaccine in the district while 3,42,590 persons have been given both the doses. In the coming 4 days, it is our endeavour that not a single eligible person above 18 years of age should be left behind in the district who has not received at least one dose of Covid vaccine," said Deputy Commissioner Dr. Nipun Jindal.
DC further said, "Those who have not taken a single dose of vaccine so far, must go to the nearest vaccination centres by Saturday and take the dose of the vaccine. Greater coverage of vaccination will protect all of us from this pandemic."
The Deputy Commissioner said that in the month of August, there have been a total of 686 positive cases of Covid-19 in the district, out of which 448 people did not take the vaccine at all, while 141 people had received the first dose of the vaccine and 97 people had received both the doses.
He said that effective steps have also been taken to ensure that all the people get the facility of vaccination and smooth arrangements for the vaccination campaign are being ensured at the district level also. He said that arrangements have been made to vaccinate people at the village level even without slot booking so that no one faces any problem to participate in the vaccination campaign.
Deputy Commissioner Dr. Nipun Jindal said that under the vaccination campaign, people are being made aware about  the vaccination, for this a Covid Management Task Force has also been constituted at the Panchayat level too. "The government and administration are taking effective steps to deal with Covid and the cooperation of the general public is highly required in this," said Dr. Jindal.