FIRST BATCH OF 56 PILGRIMS STRANDED AT NANDED REACH LUDHIANA TODAY: DC
ALL PILGRIMS QUARANTINED FOR 14 DAYS AT THEIR RESPECTIVE HOMES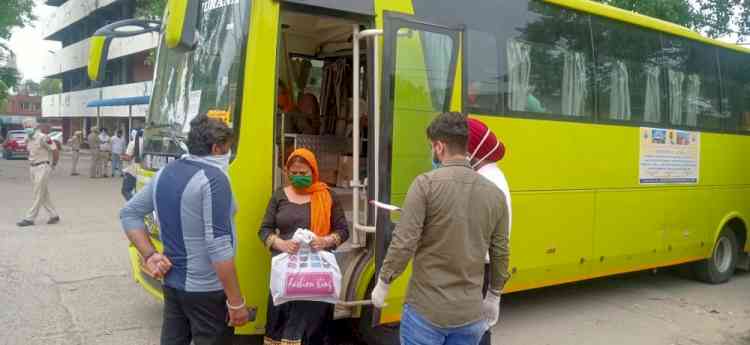 •    SOME STUDENTS STUDYING AT KOTA ALSO TO BE BROUGHT BACK BY PUNJAB GOVT
•    ONE MORE PATIENT GETS CURED AND DISCHARGED FROM CIVIL HOSPITAL JAGRAON TODAY
•    CLARIFIES INDUSTRY WILL HAVE TO PROVIDE TRANSPORTATION TO ITS LABOUR
Ludhiana: Deputy Commissioner Mr Pradeep Kumar Agrawal have informed that in yet another good news, a total of seven patients, undergoing treatment at different hospitals of Ludhiana, have been cured till date. He informed that these patients include six from district Ludhiana, while one from Jalandhar. He informed that one such patient was discharged from Civil Hospital Jagraon today.
Mr Agrawal informed that till April 26, 2020, 1707 samples have been taken in the district, out of which report of 1465 has been received, and 1444 samples are negative. He informed that 21 samples were found to be positive, that includes 18 from Ludhiana and three from other districts. He informed that one positive case (husband of BDPO, who has already been tested positive for COVID 19) has been reported from the district in last 24 hours.
He informed that unfortunately five patients have lost their lives, while six patients (five from Ludhiana and one from Jalandhar) have been fully cured after treatment. He stated that now, 9 (8 from district Ludhiana and one from another district) active patients are left in the district. He said that thankfully, the number of cured patients is increasing every day and the reason behind this is that the District Administration had done timely testing of all suspected patients and now, best treatment is being provided to them.
Deputy Commissioner Mr Pradeep Kumar Agrawal have informed that the first batch of 56 pilgrims have reached in two different buses in the district today. He informed that a total of 174 pilgrims from district Ludhiana are being brought back to the district through these buses, and in the first batch, 56 pilgrims reached the district today.
He informed that upon their arrival, proper screening by the health department officials was conducted and all of them did not have any symptoms, so they were home quarantined for 14 days. He informed that all the pilgrims thanked the Punjab government for their efforts. He clarified that there was fear in the minds of people of some areas regarding the health of pilgrims returning back from Nanded. He stated that people should not panic because all these pilgrims have been properly screened both at the time of the start of their journey in buses, as well as upon their arrival here.
Mr Agrawal said that the Punjab government has also decided to bring back students from the state, who were stranded in Kota (Rajasthan) as they were studying there. He informed that these students are expected to reach Ludhiana by tomorrow morning and upon their arrival, they would be thoroughly screened and home quarantined as per the health protocol.
He informed that the industrialists opening their industries had some confusion related to point number 19 of Punjab government advisory related to opening of industry, that is related to transportation of labour. He said that every industry have two kinds of staff, those holding managerial positions who usually come on four wheelers and the labour/workers, who either come by buses/bicycle/two wheeler. He clarified that the industry has to provide transportation for the labour/workers (only 30-40% capacity) because their movement is strictly not allowed on their own. He informed that while commuting to their respective work places, the industrialists would have to ensure that social distancing is properly maintained inside the buses.
He stated that the persons holding managerial posts and commuting on four wheelers cannot do car pooling and not more than two persons can be allowed in the four wheeler at any given time.
WITH THE CONTINUOUS EFFORTS OF PUNJAB GOVERNMENT, FIRST JATHA OF SANGAT RETURNS TO PUNJAB FROM TAKHT SRI HAZUR SAHIB
Sangat thanks Punjab Government for their safe return
Bathinda: After continuous efforts and coordination by the Punjab Government led by Chief Minister Captain Amarinder Singh with the union government and Maharashtra Government the first Jatha of Sangat reached Punjab early morning today from Sri Hazur Sahib, Nanded. These pilgrims went to Hazur Sahib in the month of March and were stuck down there due to lockdown.
The Chief Minister Capt. Amarinder Singh had been in constant touch with the Government of India and the State Government of Maharashtra to make proper arrangements for the safe return of these pilgrims. Besides this the Punjab government had also coordinated with the states through which the buses of these pilgrims were to pass so that pilgrims do not face any problem on the way.
Eight buses of this convoy reached Punjab today, out of which seven buses entered district Bathinda from Doomwali border of Haryana and one bus through Abohar in Fazilka district. In these eight busses the pilgrims who have returned back include residents of district Bathinda Sri Amritsar Sahib, Ludhiana, Kapurthala, Gurdaspur, Ropar, Shaheed Bhagat Singh Nagar, Sahibzada Ajit Singh Nagar, Jalandhar, Fazilka, Sangrur, Patiala, Moga and Chandigarh.
On entering Punjab, the administration teams led by SDM Bathinda Amarinder Singh Tiwana and Tehsildar Sukhbir Singh Brar conducted medical checkup of the pilgrims and were given snacks, water, masks and sanitizers. After completing all the necessary formalities, the buses were dispatched to the respective districts. However, 21 residents of Bathinda district were taken directly to the isolation center where they would undergo a complete medical examination and only after final medical clearance they would be sent home.
The pilgrims specially thanked the Punjab Government for its continuous efforts and coordination with the Government of India and other state governments for arranging safe transit for their return.