FICO strongly opposes decision of Punjab Government to allow industry to operate  
Asks Punjab CM to revoke decision with immediate effect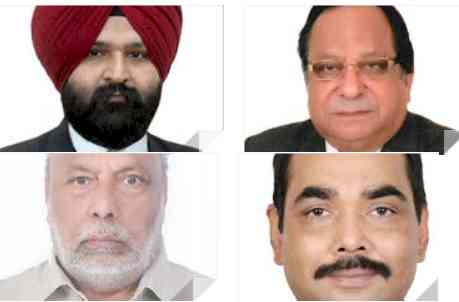 Ludhiana: FICO in a statement here today said our whole country is under a National Lock down for 21 days announced by our Prime Minister Shri Narendra  Modi to save the nation with definite economic loss and the state of Punjab is under curfew as announced by our Chief Minister Capt. Amarinder Singh. Countries like United States of America, Italy, Spain, France etc. are facing huge loss to the mankind only because of the not implementing the lock down strictly in initial phase.
FICO strongly opposed the decision and asked Chief Ministry Punjab to revoke the decision with immediate effect. Mr. K.K. Seth Chairman, Mr. Harjit Singh Sondh Vice Chairman, Mr. Gurmeet Singh Kular President, Mr. Rajeev Jain General Secretary & Team FICO said the decision of the government is totally unpractical, irresponsible, dangerous & unjustifiable and put forward the under noted facts
 
1.       Allowing the industry to operate Either means that the menace of the COVID-19 is over, and we are living in a safe atmosphere, or we are ready to put the lives of Punjabis at the stake?
2.       It is not to be mentioned that Ludhiana predominantly has small scale industry & labour intensive industry. They do not have proper arrangements in the normal days, how can you expect special arrangements in such critical time?
3.       Generally, the industries in Ludhiana have two or three bathrooms/ toilets, commonly used by the labourers, how can we expect them to be hygienic enough to ensure the cleanliness for hundreds of labourers.
4.       How can the labourers maintain a gap of minimum 1 meter with each other (Social Distancing), when we all are aware of their behavior. It is to be mentioned that we operate with human labours not robots, that we expect them to be punctual?
5.       How the industrialist will get the medical teams in their premises in the period of curfew?
6.       Not to mention the present situation of medical facilities in Punjab, the hospitals like PGI, DMC are always running to their capacity, one cannot get a bed in general days, and if COVID-19 spreads, how we will be able to provide medical facilities?
 
Further Mr. Gurmeet Singh Kular said fortunately, the things are very much controlled in Punjab only due to the strict measures followed, but allowing the industries to operate is totally impractical in this hour of crisis. But if we let the industry operate, there will be a Corona Bomb explosion and the situation will become uncontrollable in Punjab and then should the CII & CICU will be held responsible? Are we ready to risk the lives of millions in Punjab? He said this is a very crucial time and Indian & Punjab government have so far contained the COVID-19 very well, we need to understand that the 21-day Lockdown is for a Purpose and we should all hold our hands at this time and unite, it is our moral responsibility to make our teams aware and ask them to stay safe and stay inside. Running the units now is impractical and government should immediately revoke the decision.
All other association Mr. Manjinder Singh Presiden BRADO and Mr. Narinder Bhamra CEO LETS & President of Fasteners Association of India strongly oppressed the decision of CII & CICU.
 
It may be mentioned here that to address the problem of migrant labourers and prevent their exodus from the state amid the COVID-19 crisis, Punjab Chief Minister Captain Amarinder Singh today asked all industrial units and brick kilns in the state to commence operations with such migrants if they have adequate provisions to accommodate them safely within the premises.