FICO president meets Principal Secretary Investment, Industries and Commerce, Punjab 
Discussed the problems being faced by the industry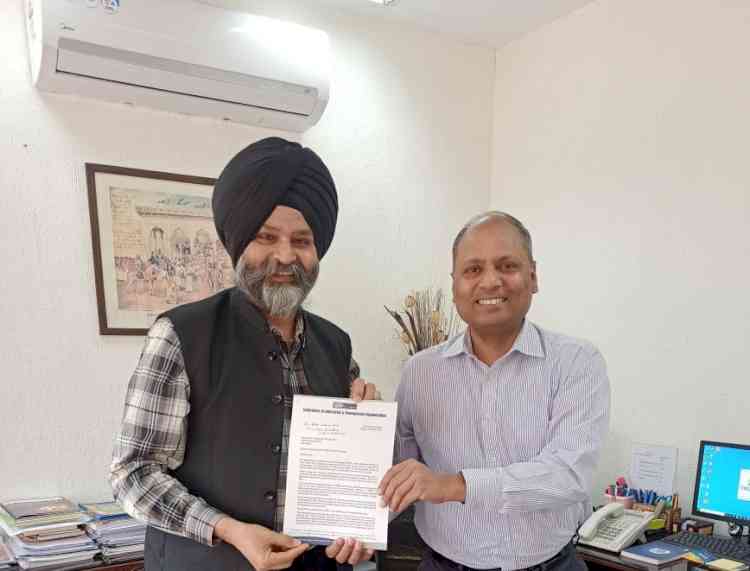 Ludhiana: Mr. Gurmeet Singh Kular, President, FICO (Federation of Industrial & Commercial Organization) met Shri Alok Shekhar, Principal Secretary Investment, Industries and Commerce, Government of Punjab and discussed the problems faced by the industry. the problems discussed were as under:
No Enhancement Policy for PSIEC Plot Holders:
FICO explained that how almost 6 years back PSIEC issued a notice of Rs.249/- per square yard to Focal Point Phase VIII Allottees, which was finally settled at Rs.24/- per square yard. Now again PSIEC have again issued a notice and demanded Rs.474/- per square yard from Focal point Phase VIII allottees, whereas PSIEC have already taken 100% anticipatory enhancement. Now with inclusions of interest & other charges the cost has reached around Rs.1000/- per square yard, which is totally unjustified and unviable. This is to also to bring to your notice that due to the PSIEC Enhancement Pendency, the industry situated in Phase VIII is suffering a lot, as all the works related to all financial institutes including banks are stagnant so is the growth of the industry, as the financial institutes demand the Clearance Certificate from PSIEC. As per the "No Enhancement Policy" of Haryana State Industries Development Corporation, the same should also be applicable in Punjab so as to facilitate the Industry of Punjab. 
Drawback of Inverted Duty Structure in Invest Punjab
Inverted duty structure is a situation where the Tax on finished goods is low compared to the Tax on raw materials that are used in the production of such finished goods. The Input Tax Credit related to input services is not allowed while claiming refund of inverted duty structure, Input services should be included in net ITC for claiming refund of inverted duty structure. This is the major drawback of inverted duty structure in Invest Punjab.
Pending Refunds of GST (State Portions)
The State portion of GST i.e. SGST in not being refunded to the fellow industrialist, which is resulting in limitations in Working Capital, heavy interests are being levied by banks on excessive usage of limits, it is industry's own money, not a grant or subsidy. Tax refunds should be processes early, so as to encourage the ease of doing business in Punjab
New Focal Point in Ludhiana
There is an arising demand for new focal point around Ludhiana, either on G.T. Road, Chandigarh Road, or Malerkotla Road. It is notable that in year 2016 the Government has introduced the Dhanansu Focal Point dedicated to the High-End Cycle Valley, but the no work related to that has been initiated on the ground level. The government should look into the matter and do the needful at the earliest. 
Allow new units to LETS
Ludhiana Effluent Treatment Society is the body that allows its member to get their effluent treated, the government has restricted the LETS to join new members, the new units should be allowed to join LETS so that they can start their functioning in the electroplating sector.