FICO organised financial literacy awareness camp with RBI
Event proved successful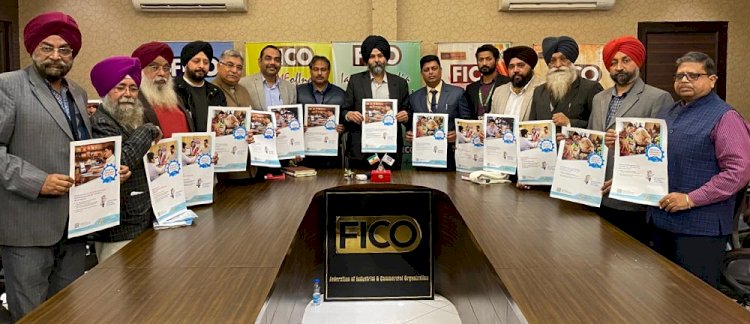 Ludhiana: Federation of Industrial & Commercial Organization (FICO) organized a Financial Literacy Awareness Camp here today. Gurvinder Singh AGM, Reserve Bank of India along with Paramjit Singh Officer Lead Bank Office (Punjab & Sind Bank) Ludhiana, were the key note speaker on the occasion.
Gurmeet Singh Kular, President, FICO said that a special literacy camps for micro, small & medium enterprises has been organized at FICO Secretariat, Ludhiana for entrepreneurs. The focus of special literacy camp was on creating awareness about aspects relating to formalization, collateral free loans, discounting of receivables, rehabilitation of stressed units and timely repayment.
Paramjit Singh Officer Lead Bank Office (Punjab & Sind Bank) Ludhiana shared difference schemes of Government of India to support MSME Sector and said One big factor which affects MSMEs to convert trade receivables into liquid funds are slow paying invoices, to resolve the same the Government of India have initiated various schemes through which 1600 MSMEs, 260 Corporates from 32 cities are registered. 28 Banks & NBFCs are on Board. More than 5 lakhs MSMEs have been benefitted from Restructuring of loans.
Gurvinder Singh AGM Reserve Bank of India, enlightened members and shared about the Trade Receivables Discounting System (TReDS), a scheme by Reserve Bank of India. In 2014 TReDS was introduced, it is a mechanism of trade receivables financing for MSMEs on secure digital platform. As per law, a buyer has to pay the MSME Supplier within 45 days of acceptance of goods, but often payments are made late and MSMEs face constraints in obtaining adequate finance. MSME seller can discount bills accepted by the buyer by uploading the invoice on TReDS an RBI Authorized Platform; To avail the benefit, both the buyer and seller should be registered on TReDS.
RBI granted approval to Mynd Solutions Private Limited, it has digitally transformed the process of gaining access to working capital for MSMEs via invoice discounting, through multiple financers.
In order to facilitate the trade receivable financing of MSMEs from corporate buyers through multiple financers. MSME Supplier, Corporate Buyers & Financers, the Invoice is uploaded by buyer or seller and is approved by the other party. once approved, the financers start to bid on invoice. The supplier accepts the bid and discounted amount is credited to its account in T+1 Day. (T is the Day of Acceptance). Since MSMEs are immediately paid through approved financers, the corporates enjoy extended payment cycle.
Amongst present were Nisar Ahmed Khan Manager Lead Bank Office (Punjab & Sind Bank), Rajeev Jain General Secretary FICO, Ashpreet Singh Sahni Head Agriculture Division FICO, Dinesh Bhogal Organizing Secretary FICO, Balbir Singh Mankoo Finance Secretary FICO, Gurmukh Singh Rupal Head Sewing Machine Division FICO, Gagnish Singh Khurana Executive Member, Rajesh Mongia Executive Member FICO, Yadwinder Singh Mankoo Executive Member FICO, Surinder Singh Chattwal Executive Member FICO, Japneet Singh Chattwal Head Young Leaders Forum FICO.