FICO-IamSMEofIndia organised webinar ever for MSME Sector
Around 300 members across country joined live session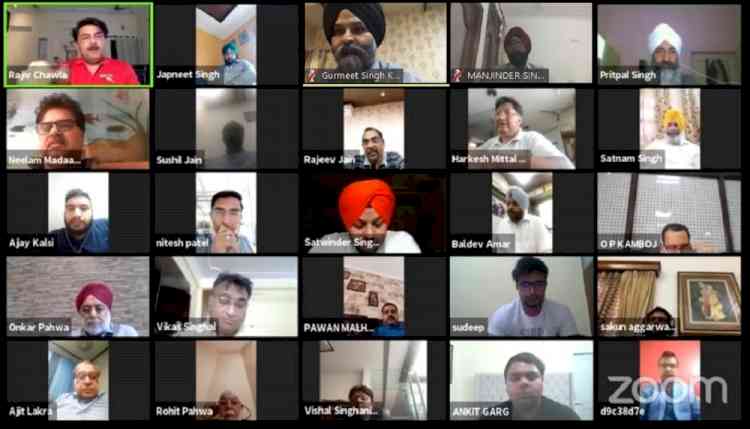 Ludhiana: Today FICO-IamSMEofIndia organized a largest ever webinar for the MSME Sector in India, around 300 members across the country joined the live session and more than 500 members have viewed the session on Facebook till now. 
Rajive Chawla Mentor FICO and Chairman IamSMEofIndia was the key note speaker and addressed the MSMEs on how to restart after the lockdown period is over, he covered the topics like prepare to restart, the government relief measures, payments of wages and salary, managing cash flow, new loans, funds- options, do's and don'ts to avoid debt-trap, in detail. He further discussed the steps being taken by the governments as well as what needs to be done at the entrepreneur's end. The professional such as advocates, business mentors were also present in the session.
"We need to look after the goods in transit, that has been dispatched before the lockdown, and did not reached the destination yet, the transporters also want to unload the current goods, and transport the essential goods further, so we look for the solution to this issue", said Onkar Singh Pahwa, Patron-in-Chief FICO.
It's the right time to use digitization to do work, said Gurmeet Singh Kular, President, FICO.
Coach Sushil Arora, Head, FICO Training Division arranged the session.
Prominent members who have attended the session were Onkar Singh Pahwa Parton-in-chief FICO, K. K. Seth Chairman FICO, Harjit Singh Sondh Co-Chairman FICO, Vipan Mittal Vice Chairman FICO, Gurmeet Singh Kular President FICO, Manjinder Singh Sachdeva Senior Vice President  FICO, Baldev Singh Amar Vice President FICO, Rajeev Jain General Secretary FICO, Dinesh Singh Bhogal Secretary FICO, Satnam Singh Makkar Propaganda Secretary FICO, Ashpreet Singh Sahni Organizing Secretary FICO, Balbir Singh Mankoo Finance Secretary FICO, Ajit Lakra Head Textie Division  FICO, Gagnish Singh Khurana Head Agricultural Division FICO, Gurmukh Singh Rupal Head Sewing Machine Division FICO, Gurvinder Singh Sachdeva Head Trade Division FICO, Japneet Singh Head Young Leaders Forum FICO, Jaswinder Singh Bhogal Head Tractor Division FICO, Manjeet Singh Matharoo Secretary Machine Tools Division  FICO, Mankar Garg Head Plastic Division FICO, Naveen Bama Head IT Division FICO, Raghbir Singh Sohal Head Plywood Division FICO, Advocate Jeetinder Gupta, Varun Mital Kudu Group, Ankit Garg Janak Raj & Sons, Harmohinder Singh Pahwa and Rohit Pahwa Nova Bicycle Industry, Sachin Manocha, Gautam Dhall, Sachin Lakra, Nayandeep Singh Komal, Varun Makhija, Jatinder Sharma, Ajay Beri, Abhishek Kalia, Karan Thapar, Amit Kakkar, Anil Gupta, Ankur Gupta, Arjun Soni, Advninder Singh, B. M. Kapoor, Chirag Pahwa, Chanchal Singh Arora, Darshan Bhatia, Gagandeep Singh, Gauraj Jain, Gopal Gupta, Harpeet Singh Takkar, Hemant Sharma, Inder Jit Singh, Munish Ahuja, M. P. Singh, Mukesh Gupta, Navjeev Singh, Neelam Madan, O. P. Sehgal, Pawan Garg, Prince Arora, Pritpal Singh, Raghar Chaudhry, Rajesh Mongia, Ruchi Gupta, S. K. Gulati, Sandeep Garg, Sapandeep Singh, Sandeep Arora, Simran Singh, Angad Singh, Sunil Soni, Vikram Singh, Vineet Kapoor and members across the country.